Having a folding inflatable paddle board is the future. Or at least, it is the trend of many brands. At the initiative of Fanatic, many brands have followed. The compact boards take up less space to store and therefore the carrying bag is smaller. This saves space in the trunk of the car and in the garage. However, these paddles still perform like the Red Paddle Compact.
Red Paddle Compact boards easy to carry
Red Paddle offers 2 compact inflatable paddle boards.
RED PADDLE 9.6 COMPACT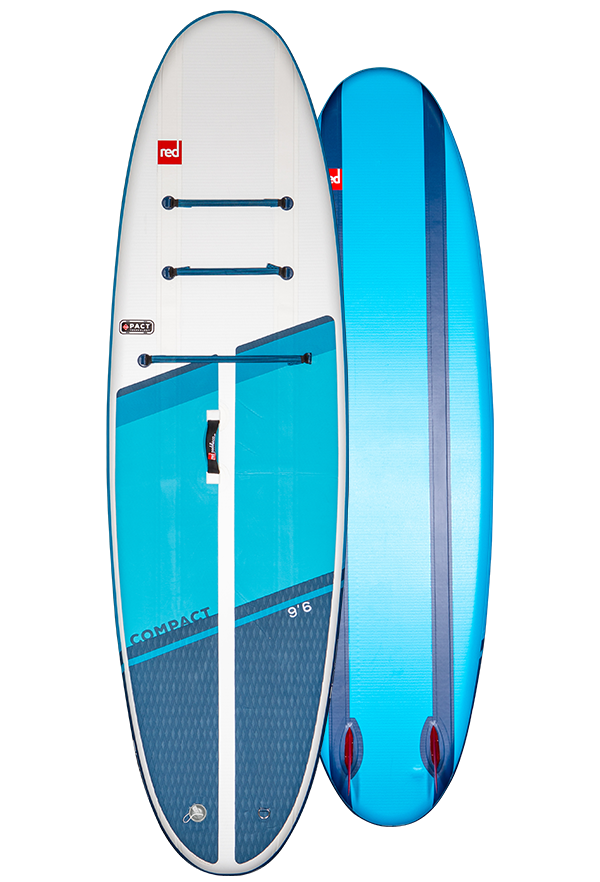 Length : 293 cm
Width: 81 cm
Paddle weight: 7.4 kg
Maximum rider weight : 95 kg
Style : Stroll
Experience required : Beginner
RED PADDLE 11.0 COMPACT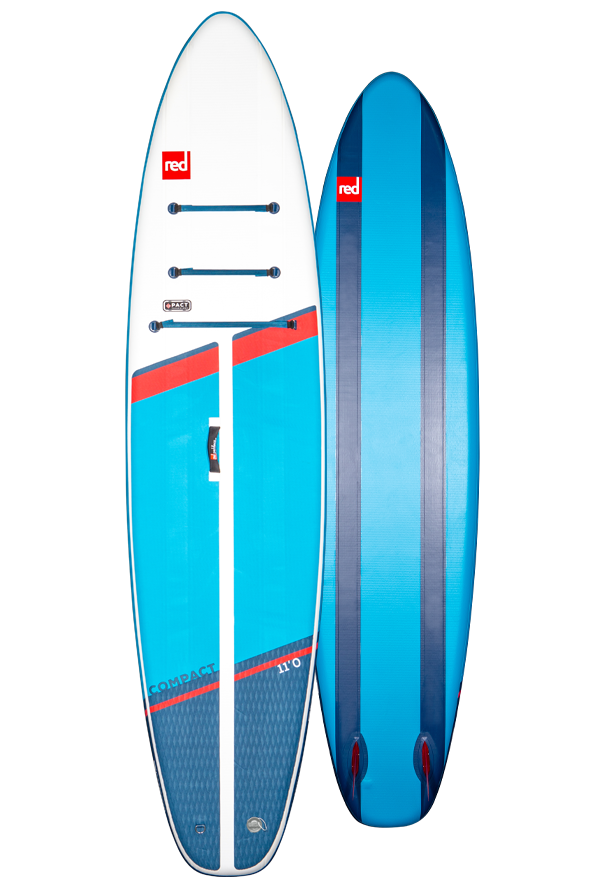 Length : 335 cm
Width: 81 cm
Paddle weight : 8,5 kg
Max rider weight: 110 kg
Style : Touring
Experience required : Beginner
The Red Paddle Compact inflatable paddles are as stiff and durable as all other Red Paddle boards. They offer the same high performance, but with the convenience of easily carrying the board and paddle around town, jumping on a train or your bike, and easily storing it in your apartment or boat.
So, these boards were designed for those who want a board that fills up and takes up less space than a traditional inflatable paddle. So let's compare the Red Paddle 9.8 Ride and the Red Paddle 9.6 Compact.
| | Red Paddle 9.8 Ride | Red Paddle 9.6 Compact | Difference |
| --- | --- | --- | --- |
| Length of the board | 295 cm | 293 cm | 0% |
| Width of the board | 78 cm | 81 cm | + 3% |
| Height of the bag | 96 cm | 56 cm | – 42% |
| Width of the bag | 39 cm | 42 cm | + 7% |
| Depth of the bag | 36 cm | 28 cm | – 22% |
| Volume of the bag | 150 liters | 120 liters | – 20% |
The smallest inflatable SUP storage bag is solid
The deal is in the bag!
The Red Paddle Compact Backpack is designed to offer unique levels of fit and comfort, as well as incredible shoulder and back support. It's the most sophisticated and feature-rich inflatable SUP bag we've seen to date. Red Paddle marketing will tell you that it applies about 53% less pressure on your lower back, so you can travel comfortably longer. With customizable lumbar support and adjustable height features, it fits almost any size paddler. But it has even more features:
Closed-cell tubular padding on the handles
Concentrated shoulder padding
Brushed cotton padding on shoulders and back
Adjustable shoulder straps
It all comes together to make this a pleasure to carry, whether you're on a short walk on the water or an epic adventure.
The Red Paddle Compact Inflatable Paddle Bag features an internal mesh pocket, elastic straps for a 5-piece paddle and high quality zippers. It has an easy loading system. In fact, the bag closes all along 3 sides opening wide so you can get your gear in and out very easily.
The space is tight, but enough for the inflatable paddle, Titan pump, fins, 5-piece paddle and leash. The Red Paddle Titan pump comes in the bag with the inflatable paddle wrapped around it. This is an interesting technique to save space.
The carrying handles on both sides, as well as the top, give you plenty of grip to grab and carry the bag. The backpack system includes an adjustable lumbar pad and adjustable shoulder straps so you can carry the bag on your back comfortably.
The Red Paddle Compact 9.6 Review
With PACT TM technology, the Red Paddle 9.6 Compact is the most user-friendly inflatable paddle available. The shape of the Compact 9.6 is based on the Red Paddle 10.6 Ride, which is a reference in the world of inflatable paddling. The dimensions, with a wide nose and tail, make it a really stable yet maneuverable board.
PACT technology is a new dropstitch weaving process that creates a matrix of high strength yarns in the core of the board that combines with an ultra-strong yet malleable outer layer. This new technology provides a board that still holds its shape when inflated, but folds to an ultra-small size once you've emptied the air.
The Red Paddle 9.6 takes advantage of the malleable and more flexible MSL construction. Fold it in half before rolling it, and you'll understand where the name Compact comes from. To take advantage of this folding ability, a 3″ wide "hinge" was created by moving the valve, handle, leash D-ring and a new dual fin arrangement. This unbroken line down the center of the board allows it to fold in half before rolling up.
How well does the Red Paddle Compact 9.6 ride?
Being modeled after the very popular 10.6 Ride, this inflatable paddle does its job extremely well. Although it is 1 inch shorter, the wider nose and tail areas provide more than enough stability. These wider nose and tail areas also give a squarer contour with parallel rails, coupled with the deeper and larger FCS-based twin Click Fins. So the tracking is pretty good.
The 9.6 length allows the board to turn and maneuver very easily. Moving your feet on the split deck was a bit disconcerting at first as your feet learn to follow the grip areas. This is not a problem at all for "standard" paddling when you are generally standing with one foot on each side. However, in surfing situations, you find yourself thinking more about foot placement. In the end, the Red Paddle Compact 9.6 works a little better than the 10.6 Ride in small waves.
Being a shorter all-around board, the glide is only decent, but as with all boards, compromises are made and it is a reliable board with the latest technology. Don't even hesitate to replace your Stand Up Paddle Board 10.6 Ride with a 9.6 Compact, it's a great board!