Aztron is a brand born from the ashes of Aqua Marina. They offer many different SUP boards and have now joined the wing foil market. Their kite is available in 2 different sizes. A wing foil that is worth trying.
Resistant and easy to handle SUP wing
Constructed with a lightweight and reinforced fabric, the AZTRON WING has a compact design and very good performance. The unique Y-shaped handle and multiple grip points on the leading edge make it very easy to maneuver and control. It offers excellent power for anything that rolls or slides.
The large leading edge of the Aztron Wing Foil creates stability and reduces flex, it also helps to develop power at low speeds so you can move earlier. Also, the extended strut offers direct control of the angle of attack, as the flex is minimal offering a solid and controlled feel.
The low aspect ratio prevents the tips from catching water. The wingtips have a protective layer against scratches so that they can be dragged (a little) on the ground, although it is better to keep the wing above the ground!
Several handles on the leading edge and strut have been positioned to cover many options, offering maximum control and comfort while gliding. The Power Grip at the front of the leading edge allows you to stop the kite completely for total control when descending downwind in a swell or when carrying the kite.
On the water, this Wing SUP kite was developed for SUP, Windsurfing and Foil. The simple nature of the wing makes it suitable for riding any board that has enough volume to support your weight on the water.
Aztron Wing Foil Construction
Lightweight and durable Dacron fabric
Made of very strong but light Dacron fabric and D2 canopy materials, the Wing Foil Aztron kites are absolutely strong and light. Plus, thanks to the inflatable technology, these wings are easy to set up, pack and use.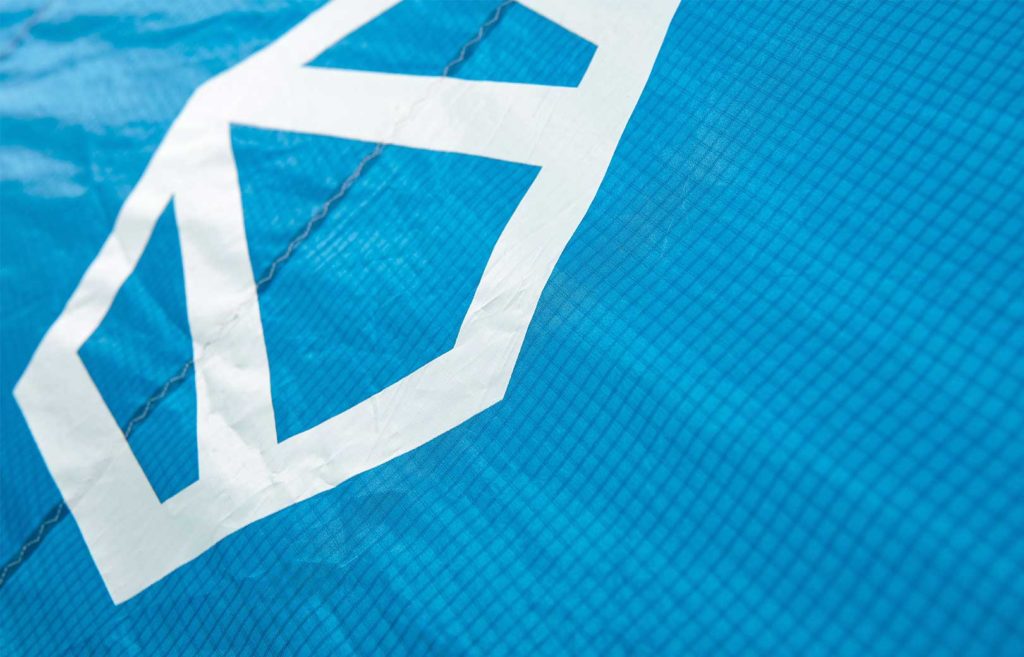 Stiff leading edge and large volume
The key to foil performance is a rigid design. Therefore, the stiff leading edge with firm fabric, large volume, ideal balanced angle and gives the wing a lot of power and maximum performance.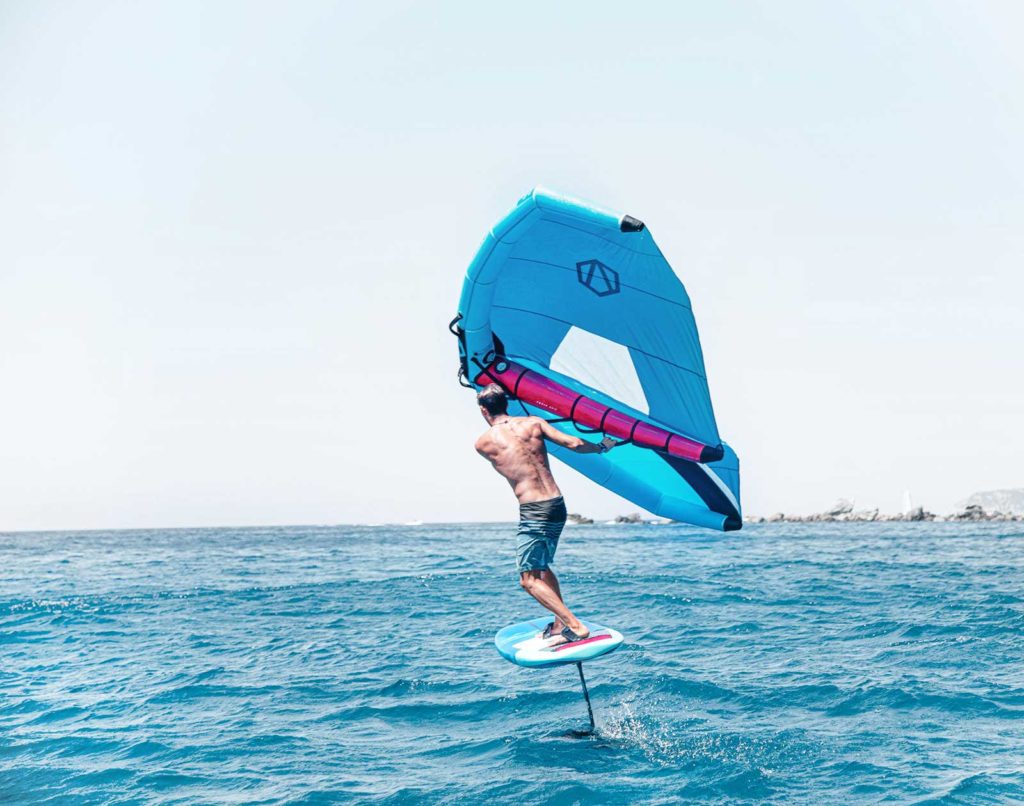 Neoprene handles for good control of the Wing Foil
There are several grip handles on the leading edge to give the rider easy and natural hand placement in various wind conditions.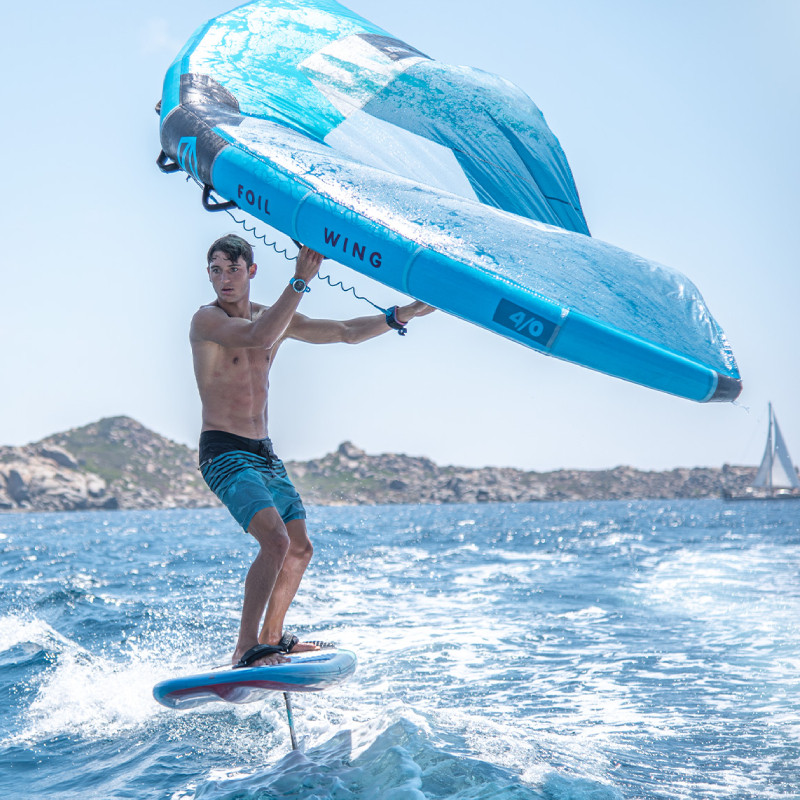 In addition to four or five handles on the leading edge, there are also three neoprene-covered top handles that you can use to stop the sail for example, attach a harness or simply carry your wing to the beach easily.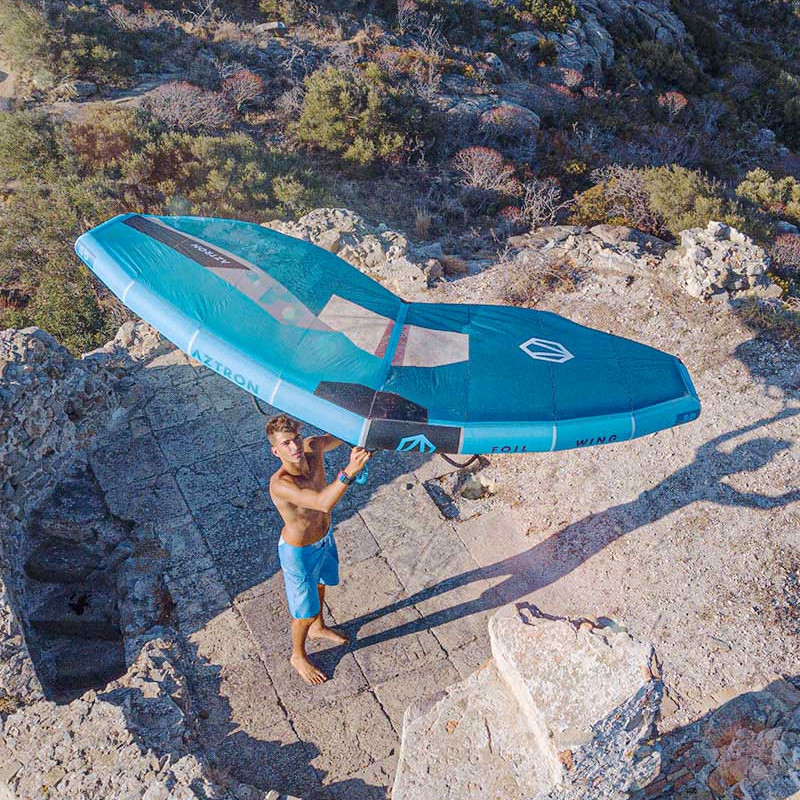 We recommend reading our review of the Aztron Falcon Air Inflatable SUP Foil.