Paddling can be a physical activity and difficult for some people. It can also be boring in the long run, which is why there is the SUP with a kayak seat. Indeed, in order to make this activity accessible to all, fun and versatile, it is possible to fix on some SUP boards a seat to pass in use kayak.
Install a kayak seat
The seats allow you to transform your SUP into a kayak at any time, so you can enjoy a ride as comfortable as if you were in a kayak.
Simple and quick to install, the seat is fixed on the rings using straps that are clipped into the 4 rings of the board. Not all stand up paddles are equipped with seat fixing rings. It will be necessary to check before your purchase that your board has this option. For optimum support, two straps are attached to the front rings and the other two to the rear. Most of the seats provided for this purpose are universal and fit on all SUP boards with fixing rings.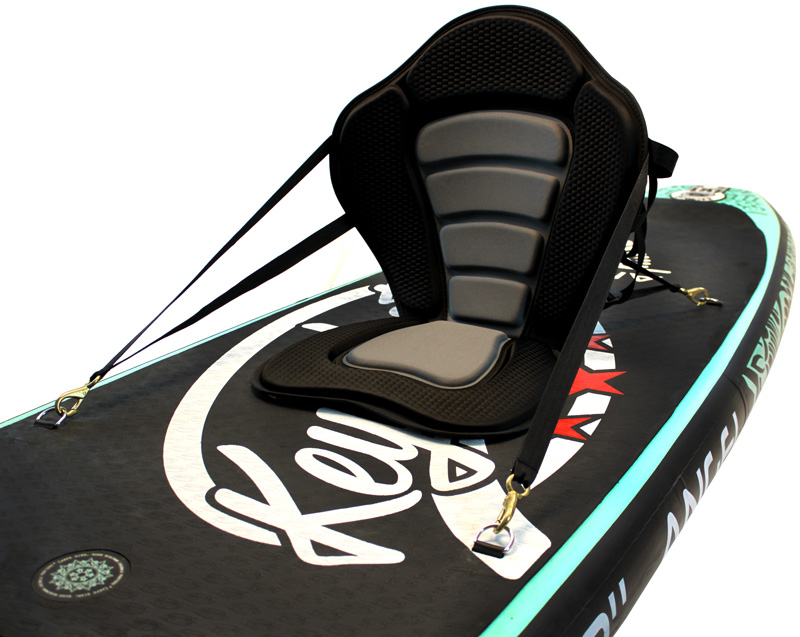 Choosing the right seat
For more comfort, we will prefer rather flexible seats so that the seat fits the shape of the back and keeps you well. Inflatable seats are less comfortable because they tend to create a bump. A padded seat will have a comfortable seat and you will be comfortable to enjoy and paddle without getting tired. It should be noted that some seats also have a back pocket to store a bottle of water and a small snack. Some boards also have an insert to attach a footrest. And to be perfectly equipped, you must opt for a SUP convertible kayak board. It allows you to switch from one activity to another without having to bother and buy two paddles.
Why choose a kayak mode?
Between surfing and kayaking, stand up paddling consists of paddling standing up. It is an ultra-comprehensive physical activity. It requires the entire muscle chain to maintain a stable and balanced position. Stand up paddling can be practiced in a sporty way, in search of performance or in a calmer way. Strolling with a seat to relax and enjoy the benefits and tranquility of the sea air.
SUP-kayaking is ideal for anyone who wants to fully enjoy their board without too much effort. It is also recommended for people who have difficulty finding balance. Also used on long tours, to be able to breathe a little while continuing to paddle at a slower pace. A safe and comfortable seat will be a very practical option if you want to take a child with you for a walk.