Founded in 2008 by former professional windsurfer John Hibbard, Red Paddle Co designs, manufactures and markets boards all over the world.
The idea of creating inflatable paddles came to him when he realized how complicated and expensive it was to travel with large nautical equipment. Anticipating this problem when the stand up paddle market was in its infancy, Hibbard imagined revolutionizing this activity. He then developped a range of boards that were easy to transport and store, without compromising performance. That's how the idea of the SUP inflatable board was born.
Red Paddle, iSUP technical leader
Red Paddle Quality
With an extremely low return rate, around 0.02%, the brand has positioned itself at the very top of the range. The performance and product quality are the two key words that have motivated the brand's board designers since its creation.
Unlike most competing brands that manufacture rigid and inflatable boards, Red Paddle only designs inflatable boards. This does not prevent the brand from being a reference in the paddle world. Indeed, their boards even rival some rigid boards in terms of performance.
Red Paddle innovation
With innovations such as the MSL system (formerly MSL Fusion) or RSS slats, Red paddle is always one step ahead.
Known as the best manufacturing process, exclusive to Red Paddle Co, the MSL Fusion technology thermo-glues the two skins (a PVC textile support and a second high-density structural PVC skin) that respectively constitute the deck and the hull of the boards, all without adding glue! This fusion is carried out by machine in order to eliminate the risk of human error inherent in any traditional manufacture of a double skin paddle.
All for rigidity!
As if that wasn't enough, Red Paddle has also devised a second system to improve its boards. It's the RSS or "Rocker Stiffening System". These are rigid slats that fit into side cases integrated into the board rails. They increase rigidity by 40% compared to the same board that does not have one.
The combination of these technologies has made it possible to achieve stiffness levels up to 50% higher than in the absence of these construction techniques.
This is the brand's clear conviction that the practice of iSUP should not be a source of compromise, whether in terms of performance, aesthetics or quality.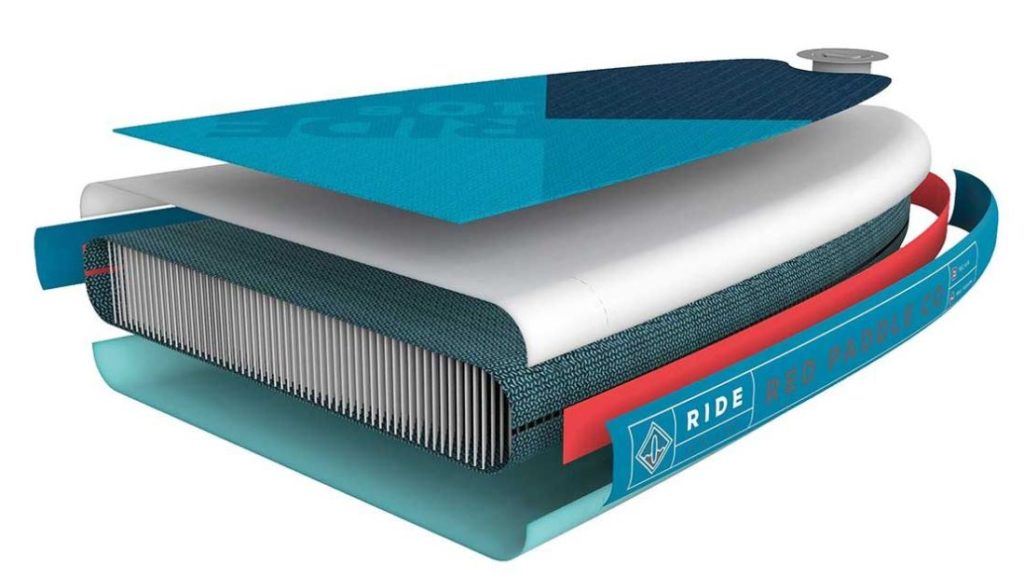 Red Paddle boards
The boards are divided into 9 categories:
All-round Boards:
called "Ride", they are boards for leisure and family. With them everything is possible: small or long tours, surfing, etc. A single goal: a maximum of fun for everyone. From the ideal 9'8" Ride for small riders, to the gigantic XL Ride that can accommodate up to 8 people, there is a Ride board for everyone!
Touring Boards:
The Sport and Voyager models (available in 6 versions in all) are an invitation to the expedition. With exceptional rigidity and stability, they allow long distances to be covered while limiting the efforts. With their off-road backpack, they accompany riders everywhere in search of adventure.
Race Boards
Red Paddle racing boards are considered to be the fastest in the world, and have earned international podiums in all classes: from 12.6 to 14.0. Again Red Paddle has developed an additional technology that stiffens the front section of the board. A carbon compression bar (Forward Flex Control System) eliminates the flex that can occur during a race, which carries energy to the rear of the board and increases speed.
Surf SUPs
There are two boards in this category. The 9.8 Ride, proof that Ride boards are highly versatile, and the 8.10 Whip developed exclusively for waves. With their wide nose and narrower tail for better wave catching, they are ideal for surfing with optimal maneuverability!
XXL Boards
There are 4 boards: two all-round "Ride", one exploration board "Voyager" and one race board for 4 people: the MSL Dragon. These boards allow you to approach the paddle board with several people in a new light and develop team spirit.
Yoga boards
Based on one of the most popular boards in the world: the 10.8 Ride, the Activ 10.8 fitness or yoga board offers a higher thickness to limit the risk of splashes and stay dry. This also ensures increased rigidity, which combined with the extra width (34″"), guarantees ideal stability for the yoga's postures.
Junior boards
This range includes two boards: the Snapper 9.4, oriented towards versatility, and a racing board for future champions in 10.6. Identical to the adult racing boards in its design, this board is devoid of the FFC system which would not make sense because of the reduced weight of the young riders and therefore the low deformation of the board under the effect of the paddler weight.
White water boards
null
designed especially for riders who love rapids, the 9.6 Wild is extremely strong and powerful. With its particularly wide outline, the board ensures maximum stability, even in rapids. Its pronounced rocker allows it to face any wave of bubbling water, inevitable in white water. Equipped with handles judiciously placed for maximum safety and control, the board is also equipped with four side fins and a larger central fin box for deeper and calmer areas.
Windsup
Two SUPs that can be used with or without sail recall the origins of the Red Paddle Co brand: the founder has made his mark on the international professional windsurfing circuit. The result is two high-performance boards with or without rigging.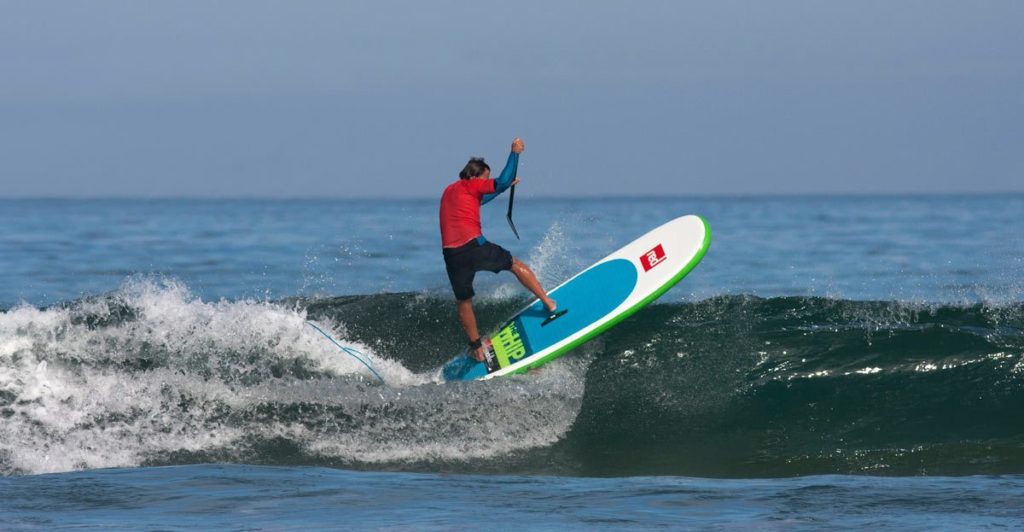 What about the Red Padle brand? What are the alternatives?
Red Paddle offers top-of-the-range iSUP with meticulous designs and an undeniable quality of construction. It is clearly a reference, as brands such as Starboard. These brands are the two leaders in innovation in the SUP inflatable segment. We can perhaps regret a lack of renewal of the Red Paddle ranges from an aesthetic point of view; otherwise, there is nothing to complain about on the technical side: the boards are very efficient and very few brands can compete with these boards. Indeed, only Starboard with its high-performance dual-chamber system offers a competitive alternative to Red Paddle boards in terms of racing. It should be noted that the Fanatic brand also offers a high-performance surfboard called the Stubby Air 8.6, which can compete without blushing with the Red Paddle Whip.