Starboard was founded in 1994 by Svein Rasmussen, world champion windsurfer and Olympic athlete. Originally only oriented towards windsurfing, Starboard quickly diversified by opening up to the stand up paddle market. First on rigid boards and then on inflatable boards, Starboard has won everything and continue to dominate international competitions in all disciplines: from surfing to race, the best athletes ride the best boards: the Starboard ones.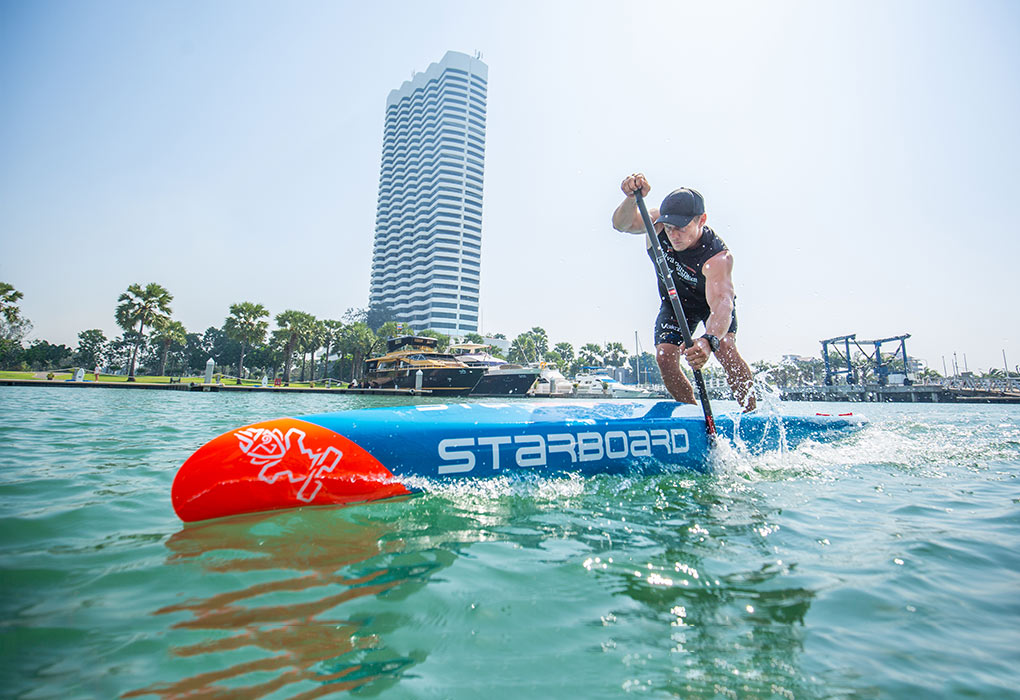 Starboard : technical leader in eco-responsible technology
Starboard is at the forefront of technology research and their boards and paddles are among the most efficient in the world. 25 years of innovation and research into board design have enabled the brand to become the world's technical leader in stand up paddle. In inflatable, Starboard invented the dual chamber system to stiffen the boards. The same goes for the Airline technology, which allows you to adjust the stiffness of the board according to the conditions… Result: more than fifteen world titles for its riders using this technology! In rigid, same observation: the shapes and technologies are so efficient that their team leads the international podiums at each competition! And if it works for boards, it's just as true for paddles: high-performance shapes, ultra-light blades, hyper-reactive shafts! To win in competition, it is better to be equipped with Starboard!
In addition, Starboard is undoubtedly the brand most concerned with ecology and strives to make boards and accessories ever more environmentally responsible. For example, since 2017, Starboard has been planting one tree (mangrove) for every board sold worldwide. All boards and paddles include, at least in part, recycled elements. Similarly, the brand counts with great precision the CO² it emits (materials, transport, manufacturing, and even the movements of their team) and does everything possible to limit the ecological impact linked to its activity. The objective is even higher: Staboard's ambition is not only to no longer have a negative carbon footprint but even to catch up on past emissions to have a positive footprint on the planet! A dedicated factory powered by solar panels, a hook to collect floating waste or between two waters offered on all the brand's paddles, the use of organic or recycled materials: Starboard has partnered with the Parley platform for new and increasingly eco-responsible solutions.
Inflatable boards, rigid boards, paddles: Starboard knows how to do everything… and does it better than the others!!!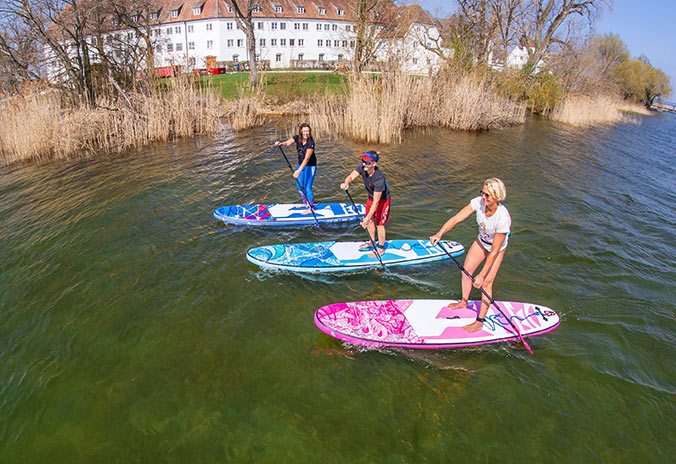 The Starboard range
Rigid SUPs
14 boards make up the range of rigid paddles in 2020, each available in different lengths and widths. Three constructions exist, not available on all models: blue carbon (very solid and very light), starlite (efficient and durable) and lite tech (light, solid, reasonable price)
Allround boards are boards that can be used anywhere. Each shape is more or less efficient on a specific type of use but can be used in all conditions. GO: This is the perfect board to start with, for those who are paddling for the first time, but want to go fast while wanting to stay dry. The range extends in size from 12'0″ to 10'2″, which will satisfy all practitioners, regardless of their weight or level.
BLEND : A versatile shape, perfect if you only want to have one board in your quiver. Rather narrow, it allows fast strolls, tight turns and good tracking to paddle in a straight line.
WIDE RIDE : It is the ultimate paddle board for surfing for all riders around the world. Its shape allows you to surf and have fun even in imperfect conditions.
WIDEPOINT : Super stable in width 32″ these boards facilitate longer surfing sessions. With their progressive hull inspired by the pro models, they are designed to provide speed and reactivity in curves.
Boards for surfing and flat water:
PRO : Having won the SUP surf ISA World Championships three years in a row, this model has a shorter outline to be able to surf with more reactivity. Slimmer rails provide control and dynamism for more speed
HYPERNUT 4 EN 1 : Sup foil, Sup surf, windsurf, wind foil: 4 possible uses for this all-purpose board! This board has a stable shape allowing an early take off. Its relatively short length allows precise control of the trim, while allowing you to remain in one position to pump.
HYPERNUT : Provides the stability of a wider board with the performance of a smaller board. This board will make all sessions exciting, even in the most mediocre conditions.
LONGBOARD: Inspired by the legendary Longboard Starboard surf model, designed to perform in both small 30cm waves and brittle reef waves. This board delivers a lot of speed when surfing down-the-line, and also has a good ability to perform in critical sections of the wave.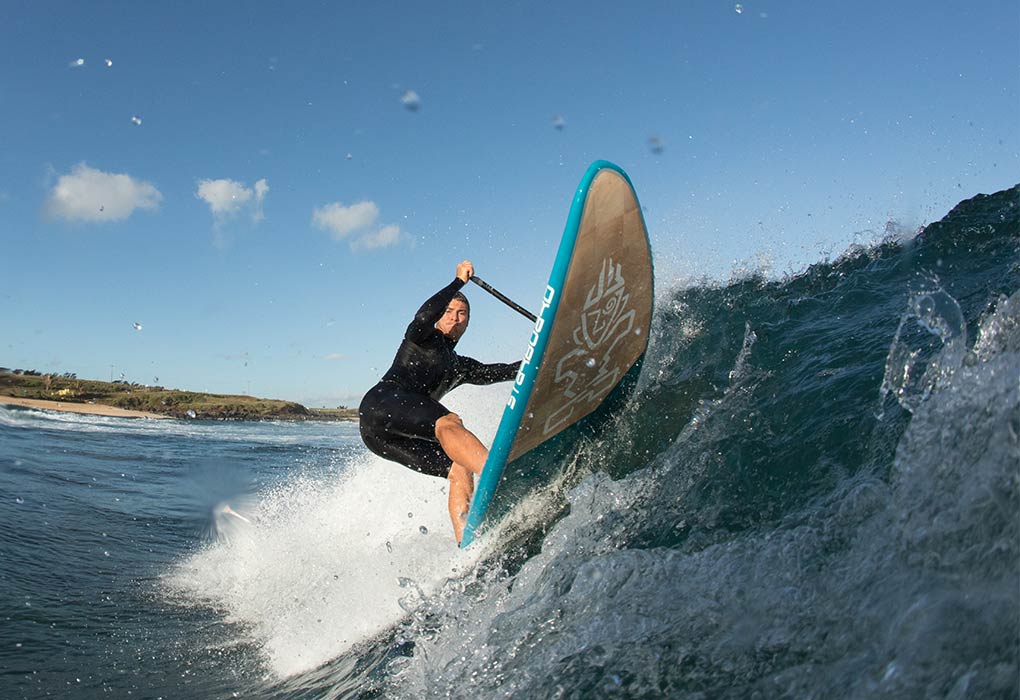 The race and touring boards are speed-oriented. Very specific, they each perform in a particular type of condition.
ALLSTAR : Will satisfy both the growing riders and the elite of the riders. It is the most versatile and fun breed board, with the greatest success all over the world. Its hull has been redesigned for even better performance!
SPRINT : it's not only the fastest board in the Starboard range: it's probably also the fastest in the world. It has won more races in the last two years than any other board, all brands combined
ACE : it is THE original reference since 2010, with its unique pinched and narrow rear and its hollowed cockpit. It is the fastest race board that can exist to participate in downwind races and/or in ocean conditions.
TOURING : Hulls inspired by those of the All Star World Champions. The additional volume at the rail level provides a unique balance and the buoyancy necessary to carry your equipment.
Finally, there are still the "different" boards: a board exclusively for the foil (the HYPER FOIL), a board for children who want to smash up: (KIDS)
Inflatable Stand Up Paddle
10 boards make up the inflatable range but above all, it is important to understand that these models exist in several construction levels: ZEN, SINGLE CHAMBER DELUXE and DOUBLE CHAMBER DELUXE. On some models, we have a fourth "range": the TIKHINE (equivalent to the Zen construction, but specifically decorated)
The Zen construction is made of very thick single skin, the Deluxe constructions are made of double skin, hot fused (total absence of glue). The rails are made of 2000 denier PVC for unequalled rigidity.
IGO : iGO boards are known to be stable, offer good speed and are very easy to turn by leaning on the rear. The tight contours of the board help you paddle in a straight line without having to change side too often. This helps to further improve paddling comfort and increase speed and glide. This is a range of boards perfectly suited for beginners, families with animals and all those who want to have fun and spend time on the water, easily and without constraint. Available in all constructions including the Tikhine option.
TOURING : The narrow nose helps to evacuate water and gives you that ultimate gliding feeling. The straighter centre section improves the stability of the board, while the wider rear section makes it easier to back up for smooth and balanced turns. The Deluxe Double Chamber model even includes a water bottle with a patented board attachment system. Available in all constructions including the Tikhine option.
ALL STAR : Ultra-rigid and extra-light woven fusion technology, plus an aramid cable that can slide freely to lock the shape of the board once it is inflated. There is an area with a ledge, so that it can be perfectly supported on the rails and maintain a perfect balance even when paddling hard. The deflector for water flow, the rigid cone on the nose, the refined hull shape and the perfectly distributed racing handles complete the package. Available only in Deluxe single chamber.
SURF : Benefiting from dropstitch woven and fused technology, as well as double chamber construction, these boards have an extreme rigidity. They will offer you the sensations of a rigid board. With only 4.75″ thick and a composite side fin system, the performance level will be further improved. Only in Deluxe Double Chamber version.
Some other iSUPs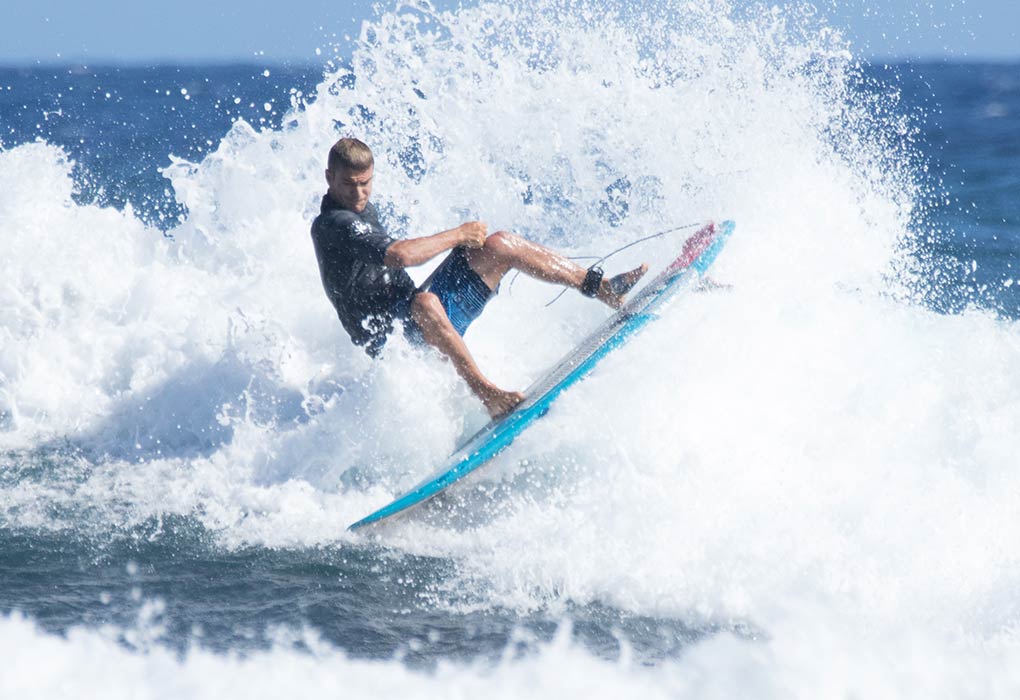 YOGA: this paddle board is stable and wide enough to allow the practice of yoga postures. The parallel rails allow you to paddle more vertically and close to the board, for better tracking. The wide nose and back reinforce the parallel contours of the board, making it a stable, soft and comfortable support during transitions between the different postures practiced. This board is also equipped with a shoulder strap. You can then carry the board easily and comfortably, while freeing your hands. Available in Deluxe Single Room
TIKI MAT : this board offers a perfect platform to transpose the postures from the ground to the water. Its shape allows you to use the full width of the board, even in its corners. It is also very practical for use in swimming pools where space must be optimized. Available in Deluxe Single chamber.
RIVER : This river board is protected by a solid shell made of double layer technology. In addition, the board is equipped with an extra long and extra strong fixed central fin. The board's performance is further improved by the presence of FCS side fins, an area where the paddler stands with ledges for maximum stability and handles positioned at the front to easily get back on the board in case of a fall. Its tail kick is strong enough to allow easy turns. The nose kick is curved enough to handle jumps on waterfalls. Available in Deluxe Single Chamber
VISION : board equipped with a transparent area to admire the seabed. With its 38″ width, this board is extra stable and large enough to allow a parent to take their children with them. Available in Deluxe Single Chamber technology. It is equipped with elastic straps on the nose and back to take a few things with you!
KIDS : board completely dedicated to children. It is specifically designed with a narrower outline allowing them to paddle with a vertical paddle, for better tracking in a straight line. Available in Deluxe single chamber and Zen versions.
SUP WINDSURF : with this compact, light and solid board. You can choose to paddle, learn windsurfing and even ride the schedule set in the footstraps. You will be helped by its "Rail Edge Technology" deflector positioned on the rear that improves the flow of water. It will also be perfect for teaching children windsurfing. It folds easily into a bag that can be easily carried in the trunk of a car. Available in version with or without footstraps.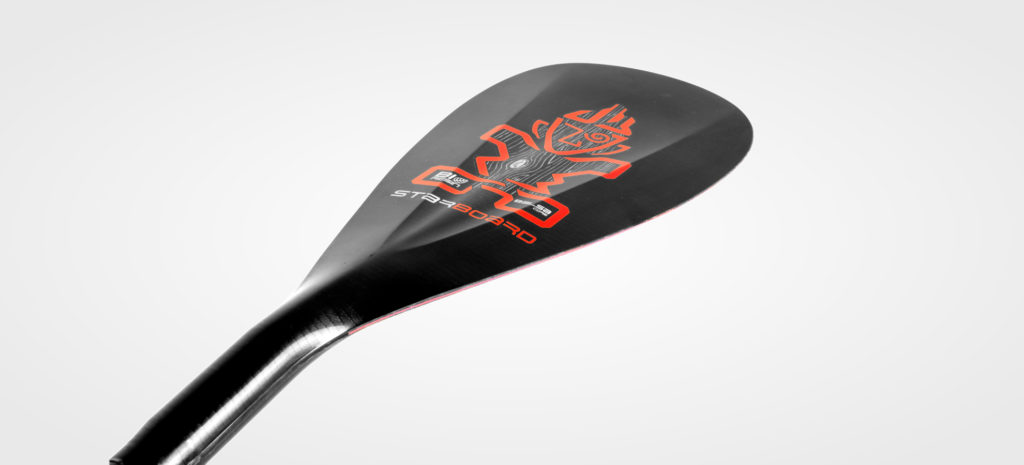 The paddles
The paddle range is divided into two types of blades: Enduro and Lima. Enduro paddles are perfect for versatile use. Lima paddles are ideal for distance travel. Available in different sizes and constructions, there is a Starboard paddle for everyone and for every activity.
The Lima is available in Prepeg Carbon and Tiki Tech versions
The Enduro is available in Carbon Balsa, Balsa, Arma Carbon, Tiki Tech, Tiki Lite and Tufskin versions