Key West, which has been on the market for two seasons now, is the brand that is still growing! With a unique style that inspires serenity, a Key West SUP board calls you on the water to paddle and have fun.
But don't let their unique designs fool you, they are great all-round boards. Unlike most entry-level/mid-range brands, whose boards are generally designed by manufacturers with little connection to the ocean, Key West boards were designed by a French shaper from the surfing world. The result is a perfect mix of stability and slide. Particular care has been taken with the finishing touches, and the range includes a number of little details that make the boards ideal for family use, without sacrificing its glide on water.
Key West iSUP boards to reach the stars
We ear a lot of qualifying terms for SUP brands and boards like reliability, glide, stability, etc. They all promise a lot of specifications at very different prices. Even if these adjectives are perfectly justified with regard to Key West boards, this should not hide the objective of the stand up paddle: having fun.
Key West understood this better than anyone. The brand has chosen to offer a range of boards whose objective is simple: to make the pleasure of paddling accessible to everyone, while maintaining a desire for performance and this goal has largely been achieved!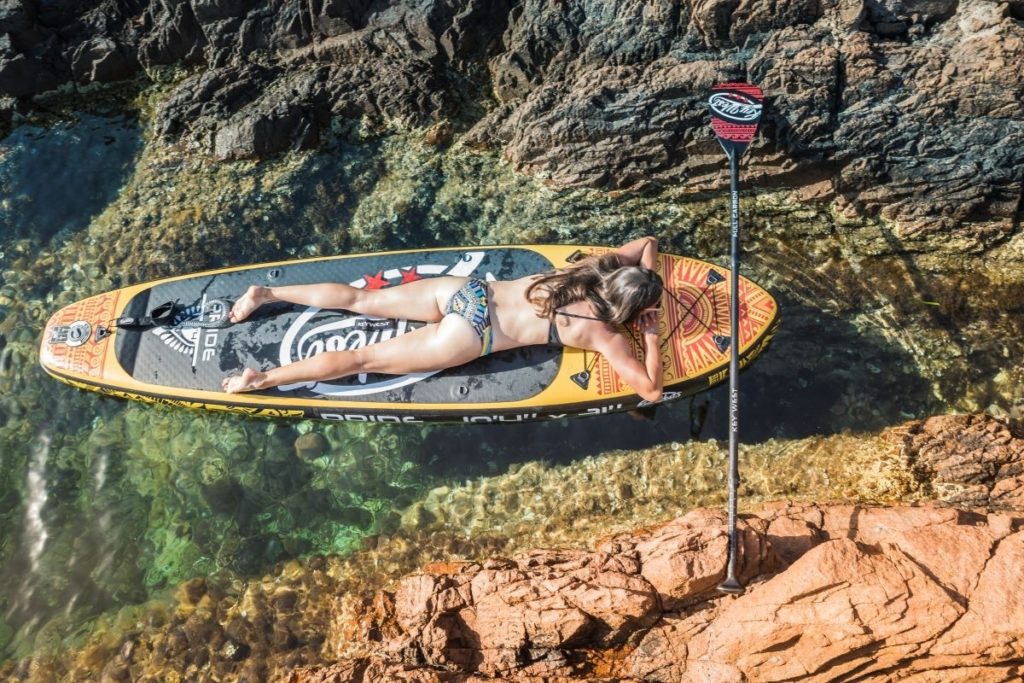 Simplicity and reliability
Key West don't claim they are a breakthrough in the industry from a technical point of view; the brand has chosen simplicity of use. Ultra light despite an excellent quality PVC and a level of finish much higher than what the market offers in the same price range, Key West inflatable SUP boards are designed for beginners and advanced riders who want to have fun at an affordable price.
Constructed in a single thick PVC layer (1000D), the boards are designed to be simple to use. Transport is easier with their quality backpack. The board is also delivered with an aluminium paddle, a leash coil, a double action pump from Bravo and a repair kit. The repair kit is not very useful for big problems, but it can help you repair some small leak for example.
As the construction of the SUP board is very simple, the risks of having a leak or any other problem is very low. Key West aims at the essential: a good glide and a lot of fun without restrictions.
High-end finish on Key West SUP board
We noted the details and finishes that, beyond style, quality or gliding capacity, make the brand's boards unique. Plus, all boards can be equipped with a kayak seat to double the possibilities of use. In addition, a bungee system makes it easy to store dry bags and other accessories. The mandala range even offers an extended bungee system (6 rings) for even greater loading capacity. This range also features an embossed logo located at the front of the pad that recalls the brand's credo: Carpe Diem.
Another tip that illustrates the level of finish: the inflation valve surrounded by a ring that reminds you of the correct use (pressure, positioning the valve to inflate and deflate the board). Better than a manual because you always have it with you! Simplicity, pleasure and performance in short!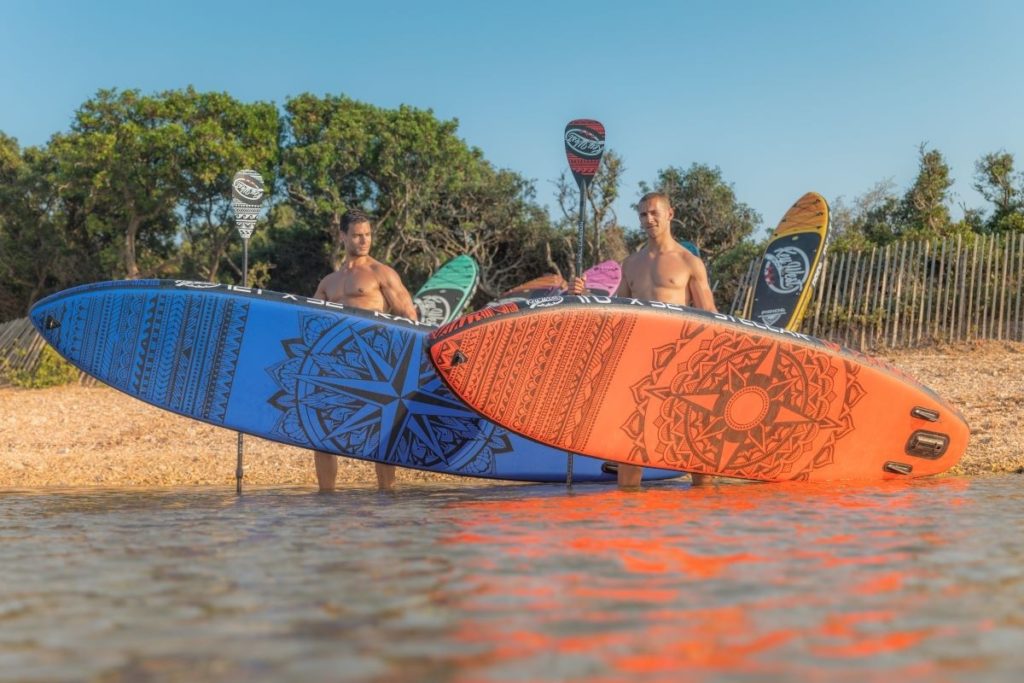 Key West SUP board
Those boards are divided into two distinct ranges: Classic Air and Mandala.
Key West Classic Air range
The Classic Air range consists of three boards ranging from 9.5 feet (287 cm) to 10.6 feet (320 cm) long. They are easy to use: wide and stable, they are simple. All three are based on the same shape, they widen as the length of the board increases. This ensures real stability for taller or heavier people, with a board adapted to their size.
This range aims to offer everyone a board adapted to their size, simple, stable and with a good glide. You don't need to be an expert to discover paddle boarding. The Classic Air range is composed of all-round boards. You can use them on flat water or in the sea, as well as in small waves.
Key West Mandala range
The Mandala range (named after the design of the boards) is composed of 9 boards is also an all-round range, but it offers a higher finish than the Classic Air range. The bungee system has 6 rings instead of 4. Plus, the pad is embossed with the Key West logo, which gives a more stylish look to the board. You can see inflation and deflation tips around the valve, like on the Classic Air range.
The differences in the Mandala range
The two major differences with the Classic Air range lie in the fin and the pad:
In the Mandala range, the paddle boards have three fins. Indeed, they have one removable in the centre of the board and two smaller glued on the side. Those boards are then very stable and it's easier to keep the course. It's also practical in the waves; the board will keep its course and you can try a bit surfing. Three fins are better for an all-round board. But the Razor and Pulsar, as well as the Namaste, only have one fin. In fact, there is no use having three fins for yoga practice and touring or race.
The Mandala range of boards are all equipped with a kickpad to hold your foot. It's an essential element to be able to perform manoeuvres while in control, on flat water or surfing.
The different models in the Mandala range
There are therefore nine models in the Mandala range:
5 hyper all-round versions, classified in ascending order of size: Angel 9.6, Pearl 9.8, Pride 10.4, Stellar 11.0 and Raptor 12.1 . Very stable, very easy to use, they can be used in a variety of ways.
2 race/touring versions: Pulsar 11.6 and Razor 12.6. Those two SUP boards are perfect for those who want to paddle long distances They are designed to be used for tours.
1 yoga board: Namaste 10.0: extremely wide, it allows all postures. Its pad is enlarged compared to the other boards to be able to practice in complete peace of mind! Unlike many yoga boards, it can also be used for small tours, although it is of course less manoeuvrable than all-round boards.
1 family board that can accommodate two adults on board: Kraken 12.9. Very wide and stable, it is ideal for children who can use it as a play platform and will delight parents who want to go for a quiet ride together. It can also be used alone, without any particular difficulty.