How to choose your SUP board? When choosing a Stand up Paddle board, you have to take into account several criteria. The weight of the rider plays a crucial role. The type of practice determines the shape (length, width, thickness) and the type of construction of the board. Then, we also choose according to our transport and storage capacities. The rigid ones for performance or the inflatable ones for ease of use and transport.
Dimensions of the board
Length of a SUP board
The choice of length has two impacts: on glide and on maneuverability. The longer a board is, the better it glides, but the slower it will be in the manoeuvre. So we will prefer a long board to cover long distances. We will choose a shorter and less bulky board for short tours.
For surfing or white water, you need a short and manageable board, while you will choose a long and tapered board for running from 11.6 to 14 feet (or 350 cm to 427 cm). Touring boards are generally intermediate: profiled and long, they are a little wider to limit energy expenditure.
If you are looking for versatility, an all-round board (average length and width, rounded shape) will not excel in any practice but will allow a wide range of use.
Width of a SUP board
The wider a board is, the more stable it is. But too much width limits the glide because the board "pushes" too much water as it moves.
Thus, a board 30 to 32 inches wide (76 to 82 cm) will be adapted to a general public practice, for small tours, long ones or surfing.
For racing, we will opt for a narrow board that will run over the water. Generally these boards range from 24 to 28 inches (61 to 71 cm), which explains their instability. They are reserved for specialists only!
Finally for yoga, the ideal is a very wide, hyper stable board, which allows a maximum of postures without systematically falling into the water!
Thickness of a SUP board
A higher thickness means more rigidity, especially with inflatable boards. Unless you weigh less than 50 kg, it is better to avoid boards that are 4 or 5 inches thick (10-12 cm), in favour of 15 cm (6 inches) boards that will deform less under the person's weight and allow a much better glide.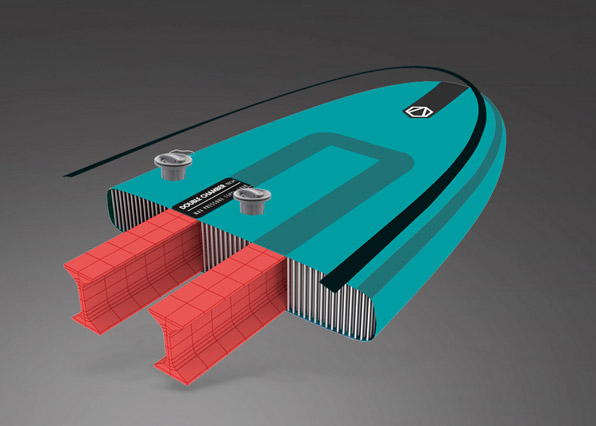 Volume of the iSUP and weight of the rider
Volume has an impact on the board's buoyancy. For a large-sized rider, it is therefore necessary to choose a voluminous board that will float better, while a lightweight rider will choose a smaller board.
Thus, a board of about 200 L will be suitable for people from 40 to 70 kg, a board up to 300 L for riders up to 95 – 100 kg. Beyond that, you need a 340-350 litre board.

These values are indicative and can be refined according to the type of manufacturing.
Be careful, paddle boards (especially inflatables) are generally not designed for two people. Only a few very large boards specifically created for this purpose are suitable for two-person navigation. We are then on boards of the order of 420 litres and more.
Shape of a SUP board
How to choose your paddle according to the shape? Depending on the activity, we will therefore choose a board with a suitable shape. In addition to the measurements of length, width and thickness, it is important to consider how the board behaves in terms of directionality, handling, etc.
These elements are, although inseparable from the rails of the board determined by the general shape of the board. A narrow outline, with little rocker will therefore be ideal for maximum gliding (race, touring, down-wind) while a more rounded board with a more raised nose and more marked rails will be preferable for river or wave gliding.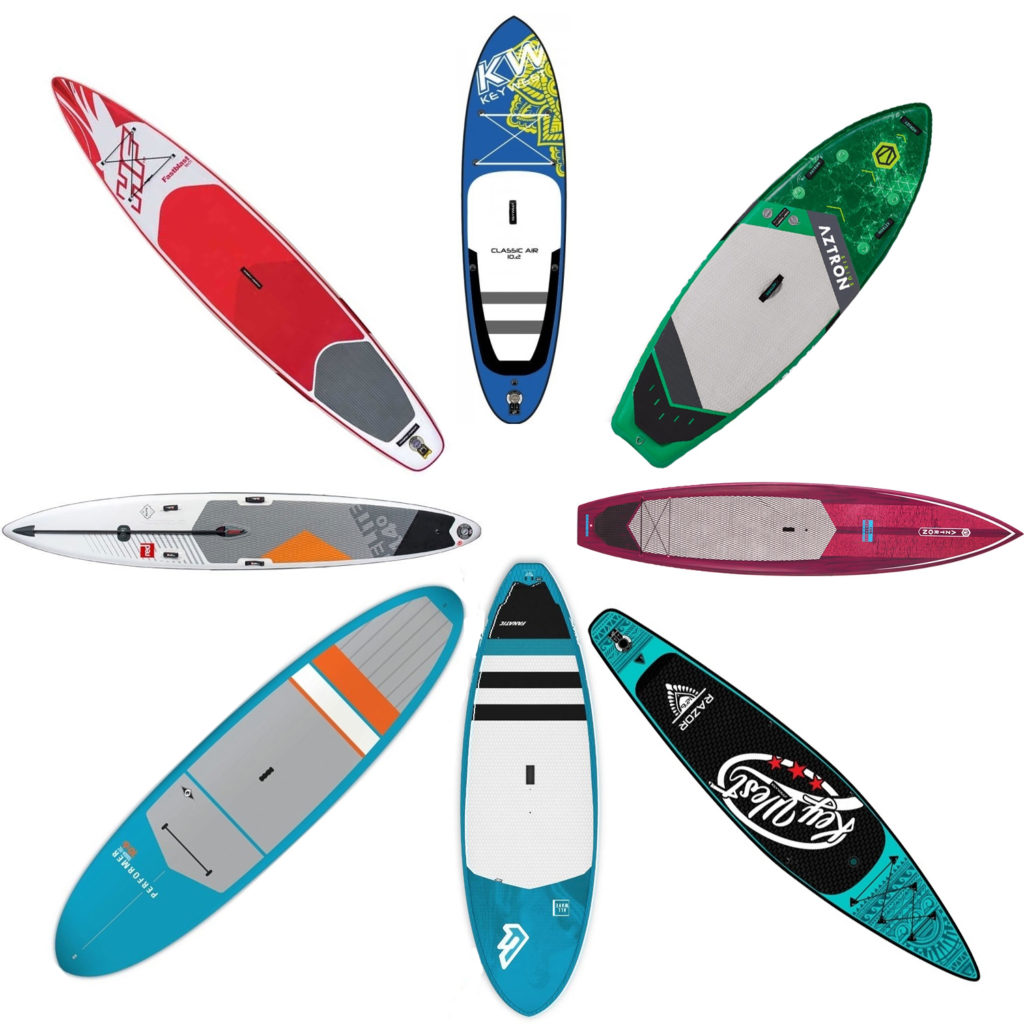 iSUP or rigid one?
How to choose your paddle between rigid and inflatable. Even if a real difference in performance between rigid and inflatable remains very real and is in favour of rigid boards, the level of performance of inflatable boards has improved considerably and we can now really have fun with an inflatable board.
For optimal performance, it is therefore better to choose a rigid board, but if you want to favour the practical side, the choice of an inflatable remains very consistent. Especially if we orientate ourselves on a double chamber board + fused double layer, this gives an incredibly rigid behaviour to the board, close to what we find on laminated boards.