To buy an iSUP (or inflatable paddle board) the consumer now has access to a large number of brands and board types.
Too many choices, you can't choose? Our buying guide will help you ask the right questions and determine the right inflatable paddle for you.
Which iSUP for which use?
Stand up paddle for small tours or for long ones?
Beginner or advanced?
Race? Surf? All-round? Touring?
We invite you to ask yourself the right questions in order to make the right choice.
All-round iSUP for beginners
To paddle from 20 minutes to 2 hours, the essential element is the stability of the board. Indeed, if you practice one or two hours, during the day or you start stand up paddling, then you need stability as a priority. A wide and stiff board will also allow you to bring a child or a dog.
Remember to attach the leash to your ankle (even in calm water). Because if you fall, you will have to swim for long minutes with your paddle behind your board.
For this kind of use, an all-round iSUP is better. These are the most popular boards because the all-round inflatable paddle boards are, in addition to being stable, easy to manoeuvre.
The advantage of this type of iSUP is that you can easily find a cheap inflatable paddle board. The most recognized brands are Aqua Marina, Zray, Key West and Hydro Force.
Touring iSUP
To practice for more than 2 hours and go far away, the rider will need optimal glide and good loading capacity for his dry bag.
The touring iSUP is long, narrow and relatively light (for its dimensions). Choose a stiff board (double layer) and equipped with a bungee system to carry a bottle of water, a snack, sunscreen and a towel for example. Initially, riders prefered rigid boards for tours, but the technical evolution of constructions finally makes it possible to "settle for" an iSUP.
Among the best boards in this category, we will find some Red Paddle brand boards such as the Red Paddle 13.2 Voyager, some Starboard SUP boards such as the Starboard Touring 12.6, some Aztron boards such as the Neptune 12.6 or the Ray Air from Fanatic.
Race inflatable Stand Up Paddle
To use a race board you need to paddle fast and a lot. Speed and glide are essentials. Only the very sleek, narrow, very stiff and lightweight models will be able to meet the expectations of the most sporty among us. Besides, in order to participate in a race, it is necessary to select a paddle of 14 feet or more. Keep in mind that the longer a board is, the better the glide will be. The reduced width of this type of board is reserved for the most experienced paddlers.
Once again, you will find the brands that have the best technologie like Red Paddle with the Elite 14.0 or Aztron with the Meteor 14.0.
Surf iSUP
To take your first waves, you can use an all-round board. But to surf waves from 1 to 2 meters, you need a board with a shape designed for surfing. The boards will be shorter, wider and have a pronounced rocker (so as not to stick its nose in the wave).
The advantage of an inflatable paddle board is that if you fall, there is little chance that the board will hurt you.
Few brands made surf boards, but Fanatic and Aztron took up the challenge and made really good surf iSUP. But avoid the cheap brands like Aqua Marina or Itwit for example. There were designed by chinese manufacturer who have no idea of what is the sea like.
Yoga iSUP
The yoga iSUP is designed for the physical and spiritual practice of yoga. Its shape is rather wide in order to provide the required stabilityfor the realization of yogist postures and breathing.
The interest of practicing yoga on stand-up paddle is first of all to leave your living room, your gym, to practice in harmony with nature and improve well-being. Muscle strengthening is increased tenfold. To understand the physical interest, it is advisable to start with some stretches and the adho mikha svanasana. Namaste!
River and whitewater iSUP
River SUP rides are ideal in the river's Class I-II rapids (for beginners). During the descents you will learn to anticipate the river in order to better anticipate your manoeuvres and understand the different movements of the water. You will also become aware of the potential dangers of a river.
The placement and trajectory can only be achieved with a wide and especially short board like the Aztron Sirius: probably a reference in this field.
Important:
do not use a leash, you risk to be dragged by your board if you fall
wear a PFD suitable for whitewater use
wear a helmet
XXL iSUP
To have fun together, what could be better than a giant SUP? These boards can accommodate from 4 to 8 people. Like the classic ones, the giant paddle boards can be practiced both in the waves, and on the flat water of a lake or pond. To ride the waves and stay on the board, you will have to coordinate your movements. You can also practice the XXL SUP on a lake, a pond or just go on a nice trip! This original activity can therefore be suitable for young people seeking sensations, as well as for a family wishing to enjoy the landscape!
Zray offers a good board with the Super S17 for up to 8 people.
Windsurfing with an iSUP
More and more persons want to try stand up paddling. That's why some manufacturer developped an hybrid between a SUP board and windsurfing. Those SUP boards can be delivered with a windsurfing sail included. Zray has developped some of those boards like the W2. And some other boards have a hole in the centre to install a windsurfing sail. You can choose the size you want. You can find a Windsup at Fanatic.
Weight of an iSUP
From experience, reading a weight and carrying it is not the same thing. 12kg for example, does it seem heavy to you? Lightweight? Compare this to the weight of a water pack. It weighs 9 Kg.
Look at this element in your choice but don't judge it too quickly. Indeed, the more material there is, the better the quality of the paddle will be and the longer it should last and be stiff.
Which iSUP do I choose according to my size and weight?
Generally speaking, the first filter to use when choosing an inflatable SUP board is the person's size and weight. It is closely related to the volume of the board.
Note that manufacturers' data are often overestimated. At these weights, the board will not sink but it will not glide optimally.
To guide you, do this calculation to find the volume of the inflatable board that will suit your weight:

The thickness of the inflatable SUP boards is also important. The thicker it is, the stiffer it will be and therefore the more stable it will be.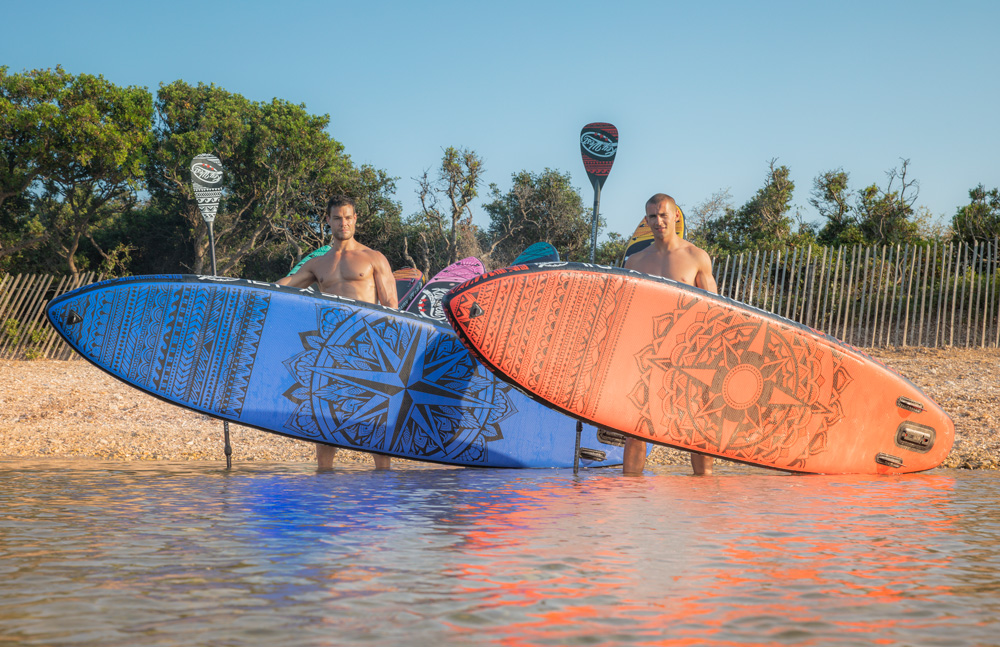 In conclusion, choosing an inflatable paddle board is not very complicated, especially if these questions are answered. Budget is a very personal thing. However, it is important to be aware that the larger the investment, the more sustainable the board is.