The board cart is an essential accessory for any self-respecting rider because it allows to easily and with a minimum of effort carry a paddle board and therefore not to tire unnecessarily before a SUP session. There are several types of SUP trolleys that we will detail here.
Why buy a SUP cart?
It is the middle of summer, and the temperature is well above 30°C. You want to go stand up paddling because you have become addicted to the sport. You manage to park in one of the few parking spaces still available. Problem, you need to walk about ten minutes to get to the beach while wearing your rigid SUP. The boards are bulky and quite heavy, so you may get tired and very hot before you even start riding!
Fortunately, board carts allow you to carry your SUP board easily and spend more time in the water than outside.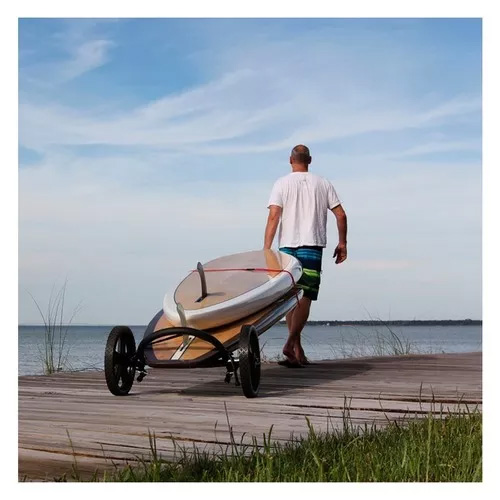 Characteristics
It is recommended to choose a compact cart that does not take up too much space in your car. Many brands now offer foldable trolleys that are very practical. The wheels can be dismantled to save even more space and puncture-proof to be able to drive on any type of terrain.
It is advisable to choose a cart equipped with a tightening strap that will allow the board to be secured and transported safely. Some trolleys are equipped with a stand to lock it and facilitate loading and unloading. It should be noted that each SUP carriage has a maximum load that must not be exceeded in order not to damage it.
Rigid SUP carts can be used to transport other types of boards. Indeed, they are also very popular with kayakers to move their boats.