The Anomy 10.6 inflatable paddle range is magnificent, with unique graphics created by crazy and amazing designers from Barcelona. This SUP board will help you stand out from the crowd.
These inflatable paddles are manufactured according to the highest international standards of quality and innovation. They are designed to be easy to paddle in all water conditions, regardless of your level.
Construction of an Anomy SUPs
Of course, at Anomy we care about style, but we also know that the real value lies in quality.
The "Fresco Tech" innovation is a technology that essentially improves the durability of materials, ensures the best printing quality of creations and certifies exceptional stability.
Fresco Tech is an extremely precise process based on high-pressure color transfer and uses the best materials for the boards. As a result, it can print in high resolution with an infinite range of colors and textures and ensures the intensity of colors to withstand time.

Anomy products guarantee the highest international standards of quality and innovation.
A stand up Paddle Anomy will please you for sure.
Anomy 10'6 SUP board
Here is the model Anomy 10'6. Firstly, regarding the general appearancce, the design of theses stand up paddle boards is very aesthetic with each time, an exceptional impression depending on the model. In addition, it has a central handle and a towing ring under the nose. The valve has the necessary information for inflation: pressure between 15 and 18 PSI, direction of inflation and deflation.
The bungee system make it easy to carry a dry bag with all you need to store (towel, bottle of water, sunscreen, etc.)
Finally, the pad is slightly raised in kick pad mode at the back to facilitate the U-turns.

At the back there is a metal ring to hang the leash.
Finally the slide-in fin measures 8.0″. No need for a screwdriver! Because it is a universal model so easy to change if you forget it on the beach.
What is included with the inflatable SUP Anomy 10'6
A 3-piece fiberglass paddle with double clap system that guarantees lightness and durability
It also includes a fast and comfortable double-action pump
A carry bag with a large storage space and wheels. Easy access zipper, padded straps, belts and accessory compartments for effortless packaging
FCS II fins designed to be easily inserted and removed in a few seconds.
You can get the most out of your Anomy boards since they come in a complete package that includes: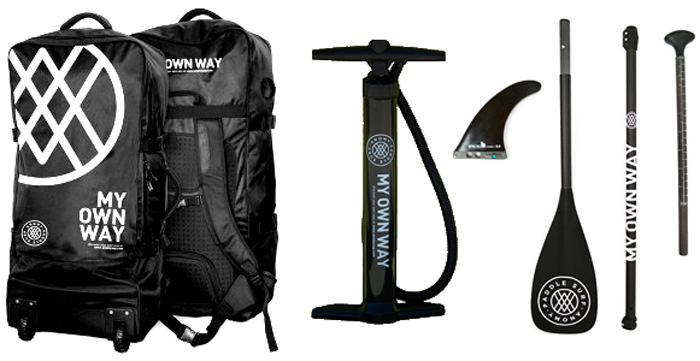 Anomy 10.6 paddle board
Length: 10'6 (320 cm)
Width: 32″ (81 cm)
Thickness: 4.75″ (12 cm)
Volume: 240 L
Construction: Fresco Tech
Fins: 1 central fin FCS II + 2 side fins (glued)
Advantages of the Anomy 10 6 SUP board
Unique aesthetic design
A shape that suits everyone
Very pleasant grip under the feet
Manual fin screw that does not require tools
Disadvantages of the Anomy 10.6 SUP board
The price remains quite high
You will not go unnoticed!
Anomy 10.6 SUP in brief
Finally, this inflatable paddle board is especially reserved for beginners who do not necessarily want to get involved in practice with medium to intense use. It is rather reserved for those who wish to enjoy short summer moments near the shore.