SUP yoga is a practice that combines yoga and stand up paddle. In search of well-being, it is practicable on all water bodies but you must know which SUP board to choose. It is strongly recommended to use a wide and inflatable board for better stability and ease of transport.
SUP Yoga: A discipline with 1000 virtues
If the SUP seduces so much it is because it allows you to recharge yourself with vitamins D thanks to the sun and for the pleasure of being in contact with water, wind and earth. It allows to regenerate. In addition to the rejuvenating aspect, SUP yoga strengthens the muscles by a slightly more advanced sheathing allowing the deep muscles to be worked on.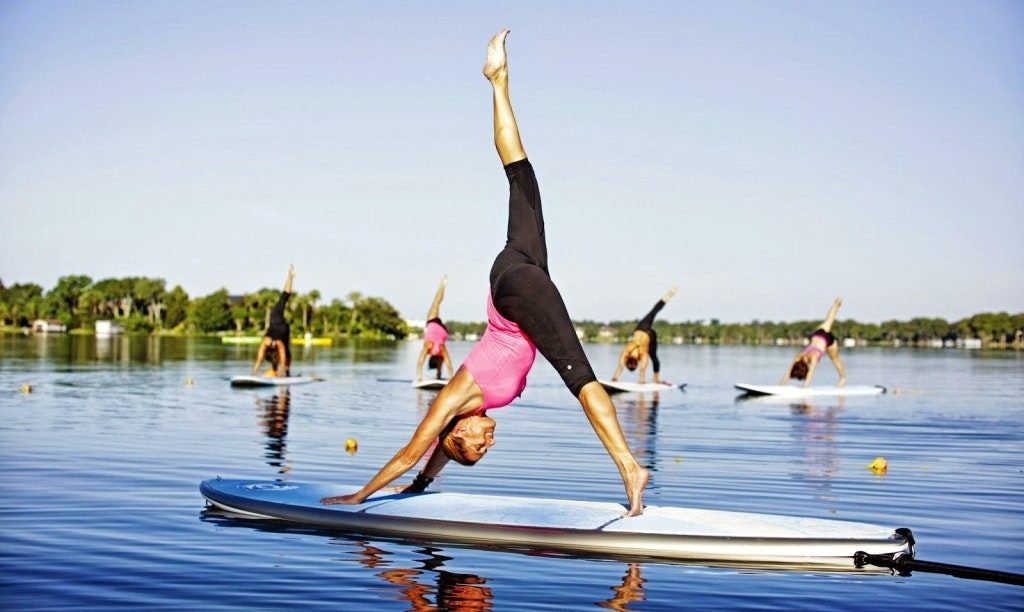 How to practice SUP yoga?
Equipped with a paddle, you paddle away from the shore and stop in a place sheltered from the wind, current and swell (20 metres from the shore). Then, we perform the postures at our own pace and level (we obviously do not start with a posture on the head) for about an hour before ending with greetings in the sun.
The initial idea is to put you at ease, to tame the instability of the board, to work on your deep sensitivity in order to quickly give you the taste of SUP yoga.
We meditate at the end of the course, lying on our SUP before returning quietly to the shore.
SUP yoga equipment
It is advisable to choose a voluminous and stable SUP board. An inflatable board is preferable because it is possible to find boards dedicated to the practice of yoga. In addition, knee contact is much more flexible. Choose an inflatable paddle board equipped with a paddle and a leash.
An anchor will stabilize the board and drift more slowly. In addition, in case of a fall, it will save you from having to swim after your board has been thrown several meters away.
How to choose a SUP yoga?
Before starting your research, you should know that SUP yoga boards are not very numerous. The few dedicated boards on the market are to be preferred. They are wider than the all-round boards. This width improves stability: ideal for starting, practicing and progressing.
Yoga postures require space, which is why we prefer a wide yoga board. Its length is about 3 meters, its width approaching 90 cm and its weight about 10 kg.
Important detail, the equipment of a real storage bag to carry it on your back will be more practical to access the waterfront or a remote place.
It is preferable to avoid rectangular models because, in addition to not providing more stability than more classic shapes, they will prove difficult to manoeuvre to move away from the shore and make a few small detours.
A hanging ring at the front (usually under the board) will allow you to attach several SUP yoga for group sessions.
A bungee system that allows you to carry a vest or waterproof bag for all the equipment you want to bring for your sup yoga session (a water bottle, towel, strap, Bluetooth speaker, book, etc.).
Namaste !
Why practice SUP Yoga?
Improves the well-being of body and mind
Promotes and optimizes core strength
Allows to communicate with nature
Develops a sense of balance
Allows you to work on deep muscles