The Aqua Marina Beast is one of the entry-level board of the Chinese brand Aqua Marina. This SUP with new colours for 2019 is a board that is already 2 years old. Even if it suffers a little from a lack of rigidity, his main flaw is that it is difficult to go straight with this SUP. However, it is very popular with families who want an iSUP to make a few rounds in the water near the shore.
Aqua Marina Beast Construction
The Aqua Marina Beast presents Dropstitch in its simplest design, i. e. simply the 2 PVC membranes connected together by threads. This is called a "single layer" construction. A non-slip pad glued to the board, a little paint and that's it!
An important defect of this entry-level single-layer Chinese construction is that it is almost impossible to obtain a flawless layer (100% waterproof).
The Aqua Marina Beast
The design of the board and the measurements are standard enough for an allround board. Inflated to 15 psi, the Beast has a relatively correct stiffness for those who are not too heavy. Its rocker is a little too accentuated which does not allow it to split the wave and as a result, it suffers from a slight wind grip.
It will still take a little technique to paddle straight. Indeed, the single and central fin is not enough to compensate for the weaknesses of the shape. The row effect is being felt. However, for the short tours along the shore, this board has a relatively low weight, which is not unpleasant. Tested at 90kg, the banana board a little under this weight which limits the glide but once again, for the short walk, it will do well.
The general aspect is rather good and the aesthetics. Aqua Marina offers, to each board, a dominant color according to the board, here, it is blue.
Traditionally, the Beast has a central (comfortable) handle for transporting the board as well as a bungee system for carrying a waterproof bag or a pair of fins.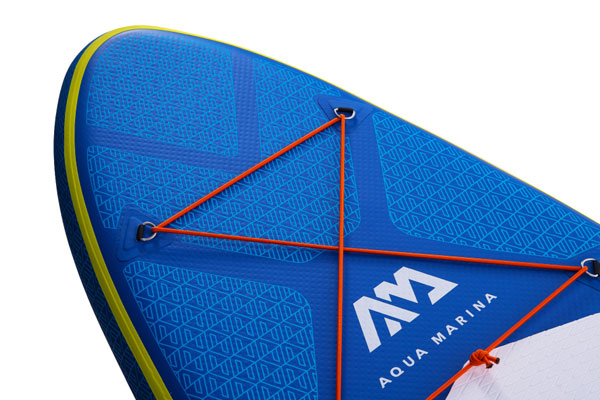 Finally, the slide-in fin measures 9 inches. No need for a screwdriver! It is a universal model so easy to change if you forget it on the beach.
Accessories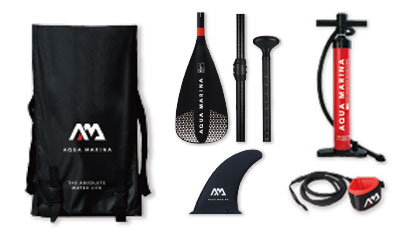 Aluminium paddle 3 parts
Leash
Carry bag
Double action pump
Technical characteristics
Length: 10'4 (320 cm)
Width: 32″ (81 cm)
Thickness: 6″ (15cm)
Volume: 300 L
Weight: 9,3 kg
Max recommended user weight: 80 kg
Construction: Dropstitch simple couche
Fins: 1 central fin
The advantages of the Aqua Marina Beast
Universal design
A slide-in fin
The kick pad
The downsides of the Aqua Marina Beast
Lack of directionality
Bag not suitable for transport
No handle on the front or rear
You cannot install a seat
What about the SUP Aqua Marina Beast?
This inflatable paddle board is rather reserved for beginners who do not necessarily want to get involved in practice with an average use. It is rather reserved for those who wish to enjoy short summer moments near the shore.