The Aqua Marina Fusion is one of the entry level boards of the Chinese brand Aqua Marina. This iSUP with new colours for 2019 is a board that is already 3 years old. Even if he suffers a little from a lack of rigidity, his main flaw is that it is difficult to go straight with this SUP. However, it is very popular because of its friendly design.
Aqua Marina Fusion 10'4 Construction
The Aqua Marina Fusion features a dropstitch in its most economical design, i. e. simply the 2 layers of PVC connected together by threads. This is called a "single layer" construction. A non-slip pad glued to the board, a little orange paint and you have a Fusion 10 4 Aqua Marina!
The defect of this entry-level single-layer Chinese construction is that there are visible bubbles in the material
Aqua Marina Fusion 10'4
The design of the board and measurements are quite common for a board such as this one. Inflated to 15 psi, the Fusion iSUP displays a relatively correct stiffness for rather light practitioners. Indeed, even if Aqua Marina recommends it up to 130 kg, for optimal navigation, it is advisable not to exceed 80 kg.
The single central fin is not enough to compensate for the weaknesses of the shape. The row effect is felt. However, for short tours, this board has a relatively low weight (8.4 kg), which is not unpleasant. Tested at 90kg, the board deforms a little under this weight which limits the glide but once again, for short tours, it will do well.
The general aspect is quite good and the aesthetics at Aqua Marina offers, to each board, a dominant color according to the board, here, it is orange.
Traditionally, the Fusion has a central (comfortable) handle for transporting the board as well as a bungee system for carrying a waterproof bag or a pair of fins.
Finally, the gliding fin measures 9 inches. No need for a screwdriver! It is a universal model so easy to change if you forget it on the beach.
Accessories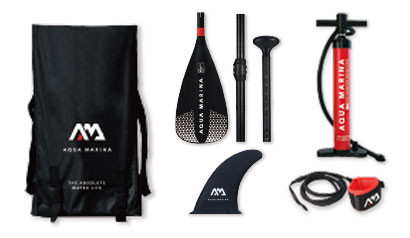 Aluminium paddle 3 parts
Leash
Carry bag
Double action pump
Technical characteristics
Length: 10'4 (315 cm)
Width: 30″ (76 cm)
Thickness: 6″ (15cm)
Volume: 290 L
Weight: 8,4 kg
Max recommended user weight: 80 kg
Construction: Dropstitch simple couche
Fins: 1 central fin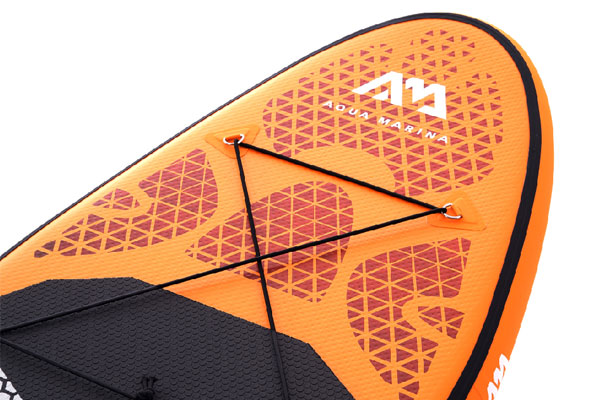 The advantages of the Aqua Marina Fusion 10'4
Confortable pad
Delivered in a complete pack
Not expensive
The downsides of the Aqua Marina Fusion 10'4
Single-layer PVC is not very rigid or durable and there are visible bubbles in the material
The board has a lot of flex
The bag does not fit well with the equipment
A heavy paddle
What to think of the SUP Aqua Marina Fusion 10'4?
This iSUP is one of the standards that made Aqua Marina famous in its early days. A small evolution of the board towards a double layer would have been appreciated. It is reserved for lightweights. Be careful, the Fusion 10'4 does not aim to take you on a big tour.