The 11.3 Sport board from Red Paddle is a must: adapted to heavy riders, it can still be used by lighter ones. With an irreproachable glide with its 11 feet 3 inches long (342.9 cm), it is perfect for long tours.
With its wide width, it remains stable and therefore easy to use for beginners. The revolutionary MSL Fusion manufacturing process used for this board makes it strong and lightweight for a variety of uses.
Technical specifications and consequences on paddling
Technicality of the 11.3 Sport Red Paddle
With its thickness of only 12 cm thick, one would have expected a weak, loose board, but this is not the case! Indeed, it would be to conceal the MSL Fusion manufacturing process of the board (double layer of hot fused PVC) that made the reputation of the brand. Thus, we have a very rigid board despite its "only" 4.72 inches thick.
Its atypical but relatively long length (343 cm) guarantees a smooth glide. It is an ideal board for long trips: not very demanding on balance because of its wide width, it allows beginners and more experienced riders to glide easily on the water, over long distances. Despite its impressive value ratings, it remains quite handy, even for a small person. So you don't need to be an expert to understand this board. However, an experienced rider will also be able to enjoy it. The board remains versatile and you can even take small waves with it!
Its narrow outline allows the board to go fast, and to go straight! The central fin plays its role very effectively, limiting the board's drift and greatly reducing the row effect.
Red Paddle 11.3 Sport's uses
Like its two sisters (models 11.0 and 12.6), the board is designed to cover long distances and this can be felt as soon as you get on the board. It is a call touring. For this purpose, the brand has integrated a bungee system with 6 fasteners where most boards have only 4 fasteners, so that a waterproof bag or two can be securely stowed with everything needed for large exits.
Its large volume of 306 L provides excellent buoyancy, which helps to further enhance the feeling of gliding. Of course, it is never advisable to paddle together on a board that is not designed for this purpose (risk of torsion of the board, loss of performance). But the volume of the 11.3 Sport is sufficient for us to consider it occasionally. And the space on board is also sufficient. It is also an ideal board for dog enthusiasts (you can paddle on your SUP with your dog), especially if you are not too heavy.
The two-part non-slip pad combines grip and comfort. Impossible to slip even into the wavelet (be careful, this does not prevent falls either). The front part of the pad is soft and comfortable, which makes it comfortable in any situation, whether sailing or not. The rear part of the pad with its more pronounced relief ensures maximum grip for manoeuvres.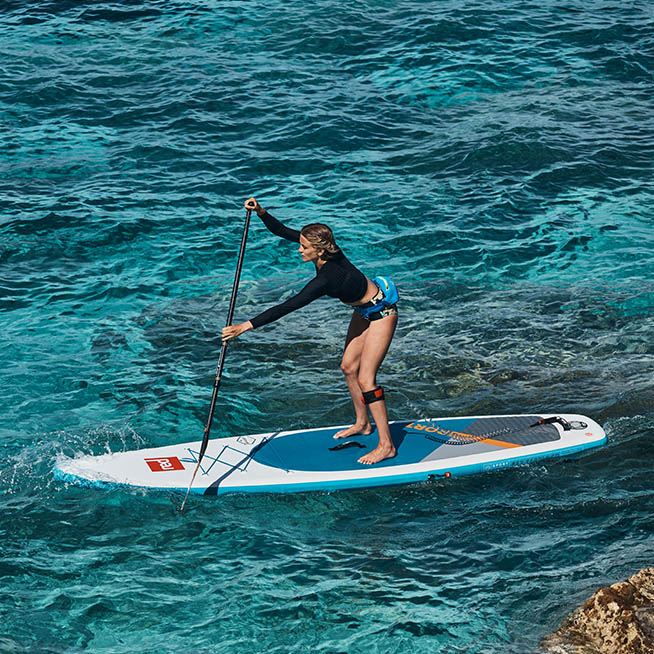 Red Paddle Accessories
The board is delivered with its carrying bag and Titan pump as standard. This pump is one of the best (if not THE best) pumps on the market; with its twin-cylinder system combined with the Hi Flo handle. Inflating your paddle becomes child's play. Almost 50% faster inflation compared to a conventional double action pump! And the pump reaches pressures of up to two bars (30 PSI); there is no excuse for not going to the water: inflating the 11.3 Sport board only takes a few minutes.
Like the other Red Paddle boards, the 11.3 Sport comes with its carrying bag. Of excellent quality, with wheels and very comfortable shoulder straps. It can contain everything you need to paddle: board, pump, leash, removable paddle and even some extra items: a waterproof bag, a water bottle, a towel, etc. Equipped with internal straps, the material can be fixed inside to prevent the board from unfolding or wandering around in the bag.
For long rides, it is recommended to use a light and stable paddle. That way, you can get the most out of this top-of-the-range board but accessible to everyone in terms of use.