The Red Paddle Ride 10.6 Inflatable SUP Board is one of the most popular boards in the world! A true Swiss Army knife for SUP boards. It can withstand almost any condition and is suitable for almost all riders.
Even if it has been around for years, it continues to be acclaimed by the SUP industry, riders and still wins many awards.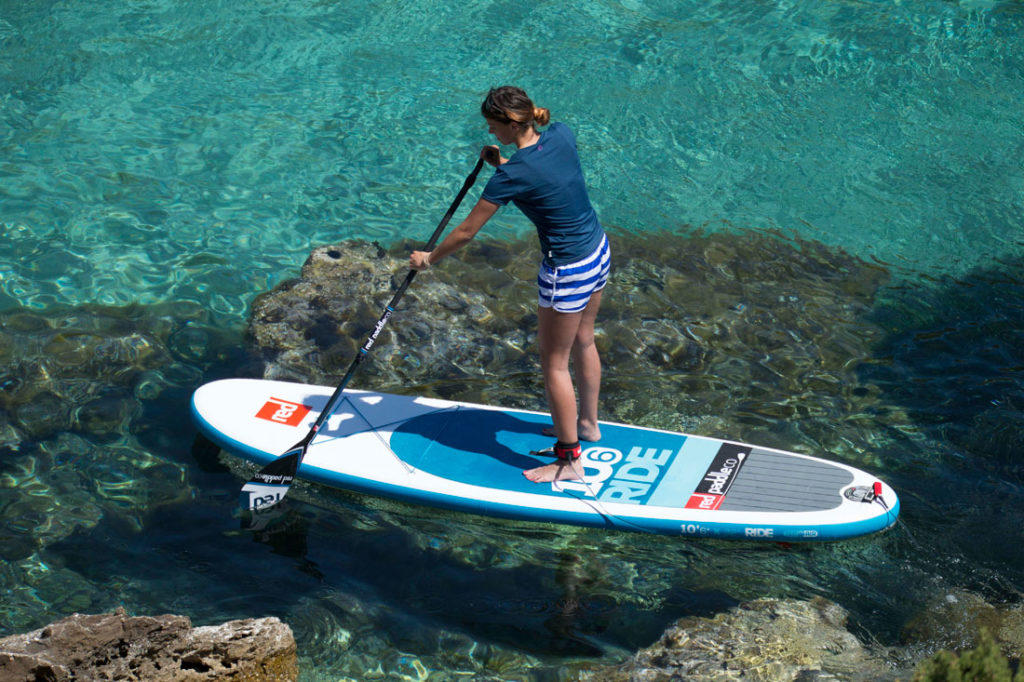 Technical characteristics of the Red Paddle 10.6 Ride and consequences on your ride
Technicality
With its thickness of only 12 cm thick, one would expect a loose board with limited performance, but this is not the case! This is the first observation when you start paddling on this board. Indeed, the MSL Fusion manufacturing process (double layer of hot fused PVC) that has made the brand's reputation is fully expressed and gives the board a surprisingly rigid behavior.
With its 10 feet and 6 inches long (320 cm), it ensures the perfect balance between glide and handling. Hyper stable with its 81.2 cm wide (32 inches), it is perfect to start paddling. But not only: put under the feet of an expert rider, it reveals its potential on flat water as in waves.
Versatility of the 10.6 Ride Red Paddle
Of course, this is not an ultra-specialized board for the race or surfing, on the contrary! But its versatility allows all practices without having to blush in front of more specialized boards.
In surfing, its rather thin rails and three fins ensure a very effective grip in the face of the wave. Without thinking of itself as a SUP surf board strictly speaking, the board provides good performance in not too big waves (up to about one meter, no more). We can regret the absence of a larger removable central fin. Indeed, it would have made it possible to surf slightly larger waves.
On flat water, the board has a good course with its three fins that contribute to excellent heading control. Again, even better heading performance would certainly have been achieved with a larger removable centre fin. The outline (the general shape of the board) generates very little disturbance under and around the board, ensuring perfect gliding. Stable enough for even a slightly agitated river practice.
With its 240 litres, the board can easily support the weight of a rider weighing up to 100 kg. But a 50 kg person will also have no trouble mastering the 10.6 Ride.
The Pad Red Paddle
The non-slip pad Red Paddle, composed of two parts, combines comfort and grip. No risk of slipping even into the small waves (be careful, this does not prevent falls either). The front part of the pad is soft and comfortable, which makes it comfortable in any situation, both when paddling and at rest. The more pronounced rear part of the pad provides maximum grip for manoeuvring.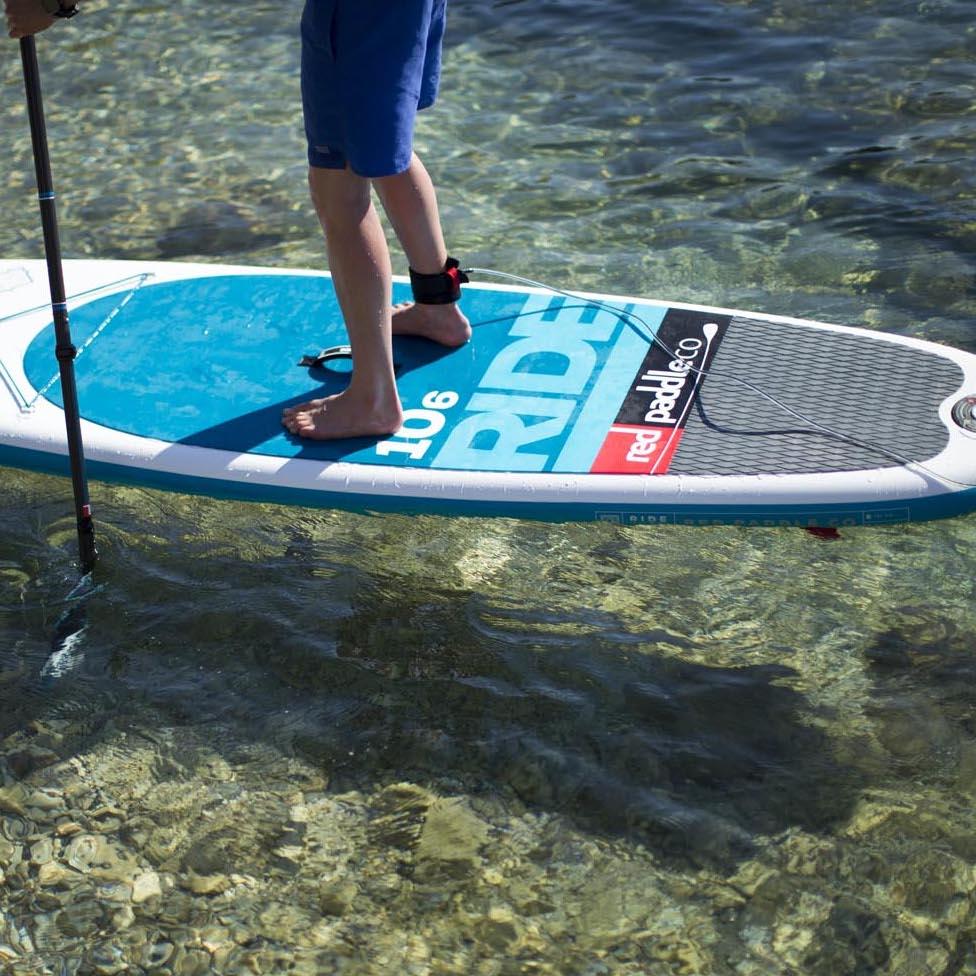 Accessories
The board is usually delivered with its carry bag and Titan pump as standard. This pump is clearly one of the best (if not THE best) on the market; with its twin-cylinder system combined with the Hi Flo handle, inflating your paddle becomes child's play. This saves almost 50% of inflation time compared to a conventional double-action pump! And the pump reaches pressures of up to two bars (30 PSI). In other words, inflating the Ride 10.6 is very easy!
Red Paddle Carry Bag
The carry bag is of the same level as the board and other accessories: hyper qualitative, solid and practical. It allows you to carry everything you need without difficulty: board, pump, leash and paddle fit easily into the bag, and you even have room to carry a few extra items: a waterproof bag, a water bottle, a towel, etc. Equipped with internal straps, the equipment can be secured inside to prevent the board from unfolding or walking around in the bag.
In addition, it is equipped with wheels, practical at the airport, and can be carried in a backpack with its two very comfortable padded straps.
One of the advantages of this board is that it is suitable for all levels: from beginner to expert. Thus, even if the board is generally offered with an aluminium paddle, it is not inconsistent to use it with a high-end carbon paddle. We can then draw the quintessence of the capacities of the 10.6 Ride board by Red Paddle