The Fanatic Fly Air Premium 10.8 is a high-end, super versatile paddle board. Very easy to use, it will delight beginners and experts, on flat water as well as in small waves. This board is available in 4 sizes, from 9.0 to 10.8
It is the ideal board to discover stand up paddling, have fun, progress, surf, play, etc. It provides maximum fun in all conditions for riders up to 120 kg.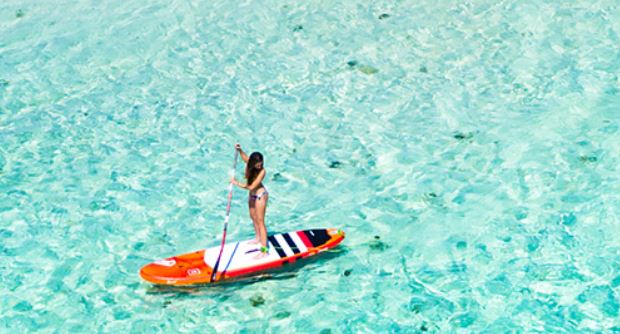 Fanatic Fly Air Premium 10.8 Construction
Manufactured with "double layer light" technology, it is a double layer + the second layer of PVC is welded to the core of the board, around the "V-Dropstitch" core for optimal rigidity and strength, while an additional third layer of coloured PVC reinforces and decorates this board with ultra-resistant advanced technology.
This technology allows a significant weight saving (-20 to -25% of weight) while guaranteeing an improved rigidity in the order of 25 to 30%. It is one of the best, if not THE best, technology available on the inflatable paddle board market today.
The Fanatic Fly Air Premium 10.8
Technicality
The Fly Air Premium 10.8 offers a classic shape, focused on versatility. It reminds us of the outline found on classic longboards, balanced between stability and glide.
Its ease of use makes it accessible to beginners because the board is very stable. However, the board is very efficient and will not disappoint more experienced riders. It should be noted that Fanatic's Fly Air And Flay Air Premium range is the only one in the inflatable paddle board market to offer side fins with a "toe angle or splay", essential to the board's performance in waves.
Uses
The Fanatic Fly Air Premium 10.8 is ideal for heavy riders, but it is also suitable for lighter ones that are looking for glide and stability. Its volume ensures high buoyancy, its length allows optimal glide, while the 34" (86.4 cm) width coupled with the two lateral fins and the central fin guarantees unequalled stability!
From an aesthetic point of view, the board is very successful: the graphics are simple but effective, with a gradient of colors combining red and orange, and a perfect level of finish!
There is of course a bungee system, and a neoprene handle for transport, very comfortable. Like the other boards in the premium range, the Fly Air Premium 10.8 is equipped with a mast foot insert that allows you to use the board with a sail!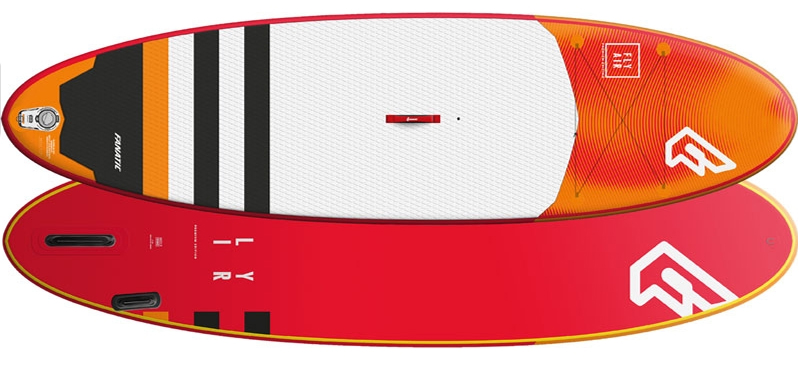 The price
Fanatic generally offers boards of excellent quality, with a level of performance well above average. We are talking here about the Fly Air Premium, which brings together all the most advanced technologies in terms of iSUP construction. It is therefore quite logical that the price of boards is also higher than other less high-end brands. However, the solidity is there, and the accessories are not to be outdone: the board is generally supplied with a carbon paddle (partly), a leash, but especially with a backpack (and wheels) of excellent quality and a very efficient pump. We are therefore here on a very good quality/price ratio even if the price remains high in absolute value.
Technical characteristics
Length: 10'8'' (325.1 cm)
Width: 34″ (86.4 cm)
Thickness: 5.5″ (14.5 cm)
Volume: 306 L
Max Payload: 120 kg
Construction: Double Layer Light
Fins: 1x US Box 10 ", 2x glued / 1x 19,5 cm, 2x 7 cm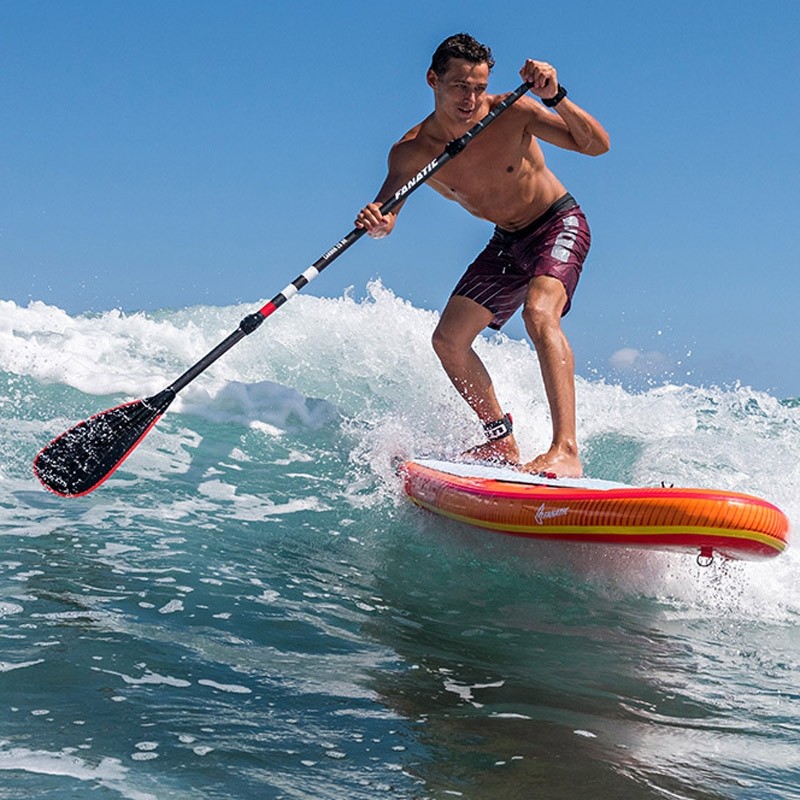 The advantages Fly Air Premium 10.8
The overall performance
Its versatility
Perfect for beginners and experts
The quality of construction that promotes rigidity
The downsides of the Fanatic Fly Air Premium 10.8
No kayak seat attachment rings for family use
Little evolution in graphics compared to previous versions
There are not so many special offers on this board
What about the Fly Air Premium 10.8?
The Fly Air Premium is clearly a benchmark in terms of performance, reliability and versatility. Its high-end manufacturing allows it to compete with the other two heavyweights on the market in terms of technology: Red Paddle and Starboard. In this respect, it is rather better placed in terms of price than its competitors. It has the advantage, compared to the latter, of being more efficient than them in the waves, which gives it a definite advantage. Often copied, but rarely equalled. The Fly Air Premium has a bright future ahead of it!